Mother's Day Brunch Recipes
When it comes to Mother's Day, making her delicious food is the best way to treat her. Make sure to do so with these fabulous Mother's Day brunch recipes, which you can cook at home with not much effort needed. We tried to keep it healthy with these ideas so feel free to choose the right one for your Mom.  
Spring Salad With Apricot Vinaigrette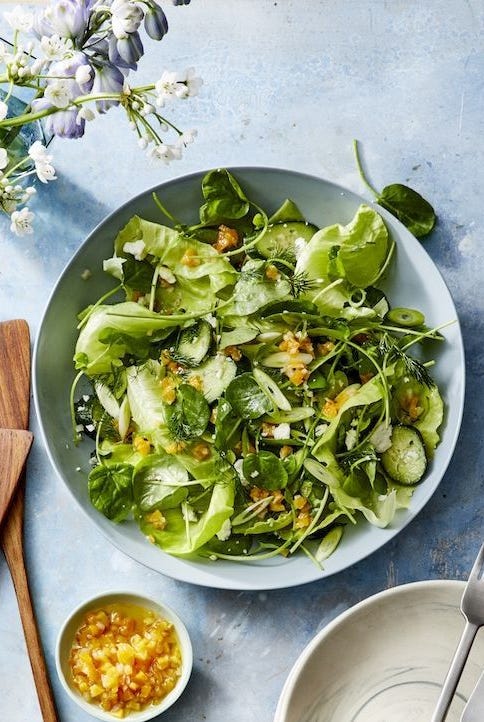 Starting off with a healthy one since eating healthy is very crucial at the moment. This delicious salad will give you all a boost of energy especially if you add some seasonal veggies to make it even more spring-appropriate.   
Ingredients
1/4 c. dried apricots, finely chopped 

1/4 c. white wine vinegar

1 shallot, finely chopped

1 tsp. Dijon mustard

2 tbsp. olive oil

1 head butter lettuce, cleaned

2 bunches Upland watercress, cleaned

1 oz. feta, crumbled

1/4 c. dill, chopped

2 scallions, thinly sliced

1 Persian cucumber, thinly sliced
Instructions
Place apricots in a small bowl. Bring white wine vinegar to a simmer, then pour over apricots. Let stand 10 minutes.

In a small bowl, combine shallot and Dijon. Using a slotted spoon, transfer apricot to the mustard mixture. Add in 2 tsp vinegar, then mix in olive oil. Discard remaining vinegar. 

Toss together remaining ingredients, then toss with the vinaigrette. 
Mint-Pesto Baked Eggs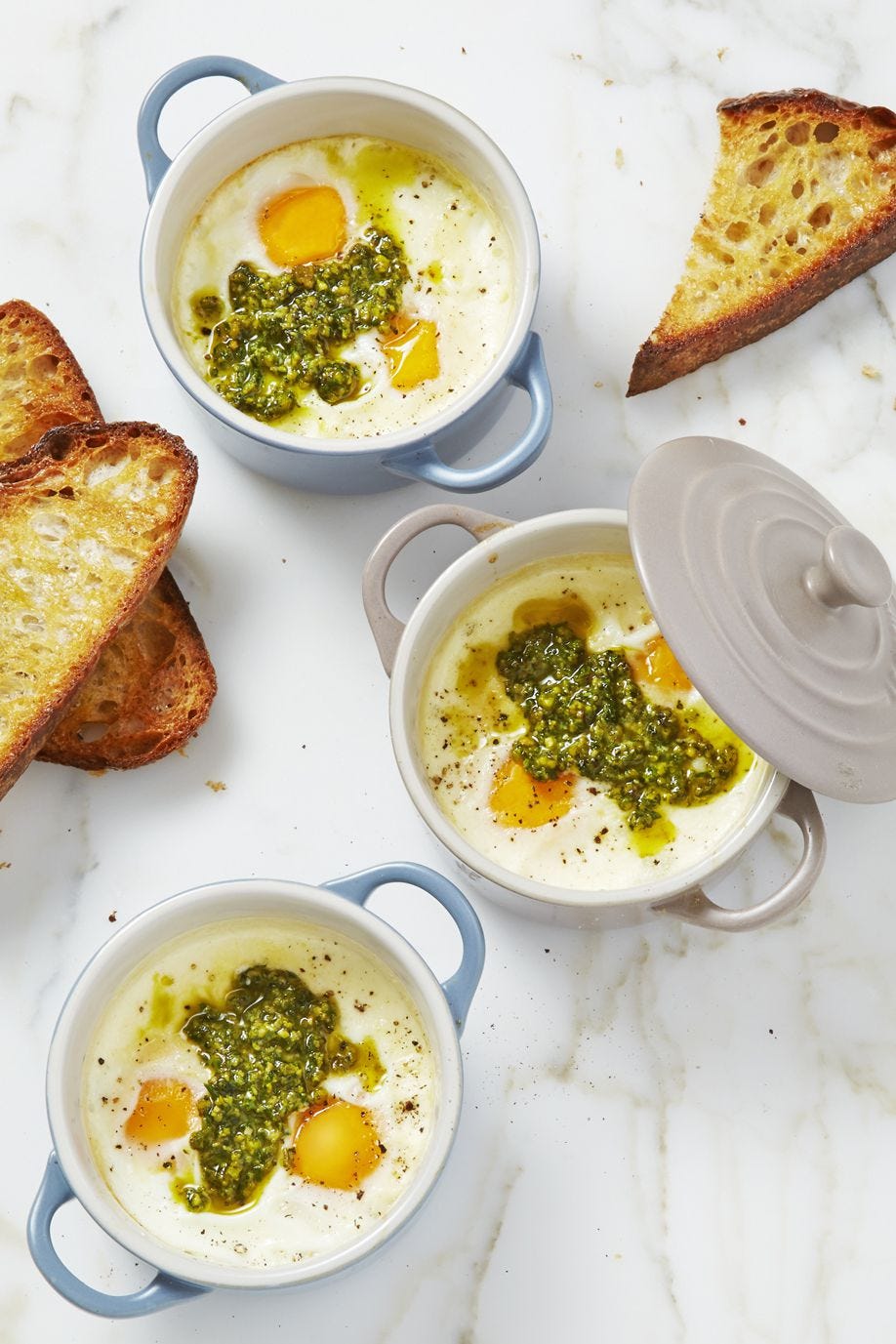 Mom will appreciate the effort especially if you bake eggs in individual ramekins to make 'em feel instantly more festive. A crusty loaf of bread really brings it all to the next level.
Ingredients
1 c. packed fresh cilantro leaves

1/2 c. packed fresh mint leaves

1/2 c. shelled pistachios

2 jalapeño chiles, seeded and chopped

2 tbsp. lemon juice

1 clove garlic

1/2 c. olive oil

3/4 c. heavy cream

12 large eggs

Toasted bread slices, for serving
Instructions
Preheat oven to 425°F. Grease six 10- to 12-ounce ramekins; place on a rimmed baking sheet.

In a food processor, pulse cilantro, mint, pistachios, jalape- ños, lemon juice, garlic, and 1/2 teaspoon salt until finely chopped, stopping, and stirring occasionally. Pulse in oil until well combined.

To each ramekin, add 2 tablespoons cream and 2 eggs; top with 1 tablespoon herb mixture. Bake 12 to 15 minutes or until whites are set but yolks still runny. Serve with remaining herb mixture and toasted bread.
Tahini-Lemon Quinoa with Asparagus Ribbons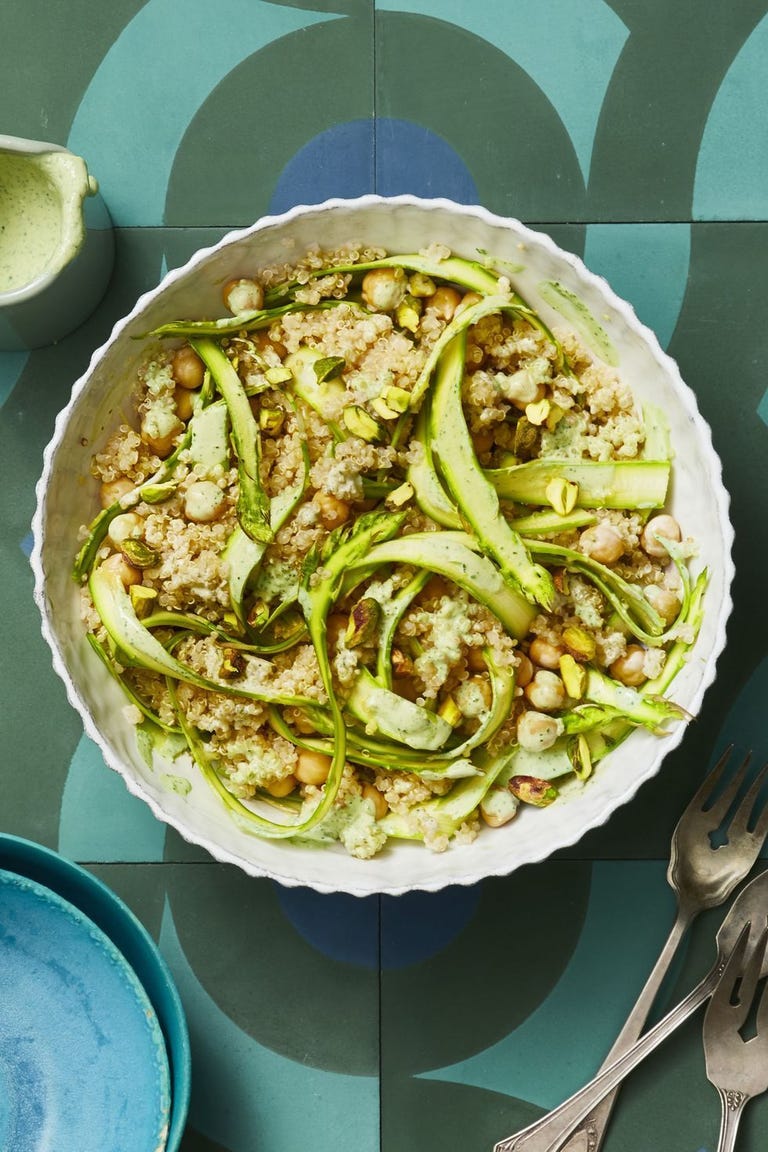 It's finally time to try that quinoa and see what's the deal with everyone loving it lately. Mom probably already loves it so it will be a win-win situation anyway. 
Ingredients
1 15-oz can chickpeas, rinsed

Zest and juice of 1 lemon

Kosher salt

Pepper

1 c. quinoa

1/2 c. tahini

1/4 c. fresh lime juice

1 tbsp. honey or agave

1 c. packed fresh mint leaves

1 lb. thick asparagus

1/4 c. shelled pistachios, chopped
Instructions 
In a bowl, combine chickpeas, lemon zest, lemon juice, and pinch each salt and pepper. Let sit 20 minutes or refrigerate overnight, then drain.

Meanwhile, cook quinoa per package directions and season with a pinch salt. 

In a blender, puree tahini, lime juice, honey, mint, 1/2 cup water, and 1/4 teaspoon salt until smooth, adding additional water if needed; set aside.

With a vegetable peeler, shave asparagus into ribbons, peeling from the woody end toward the tip. In a bowl, combine cooked quinoa, asparagus ribbons, and marinated chickpeas. Sprinkle with pistachios and drizzle with tahini dressing.
Chrissy Teigen's Banana Bread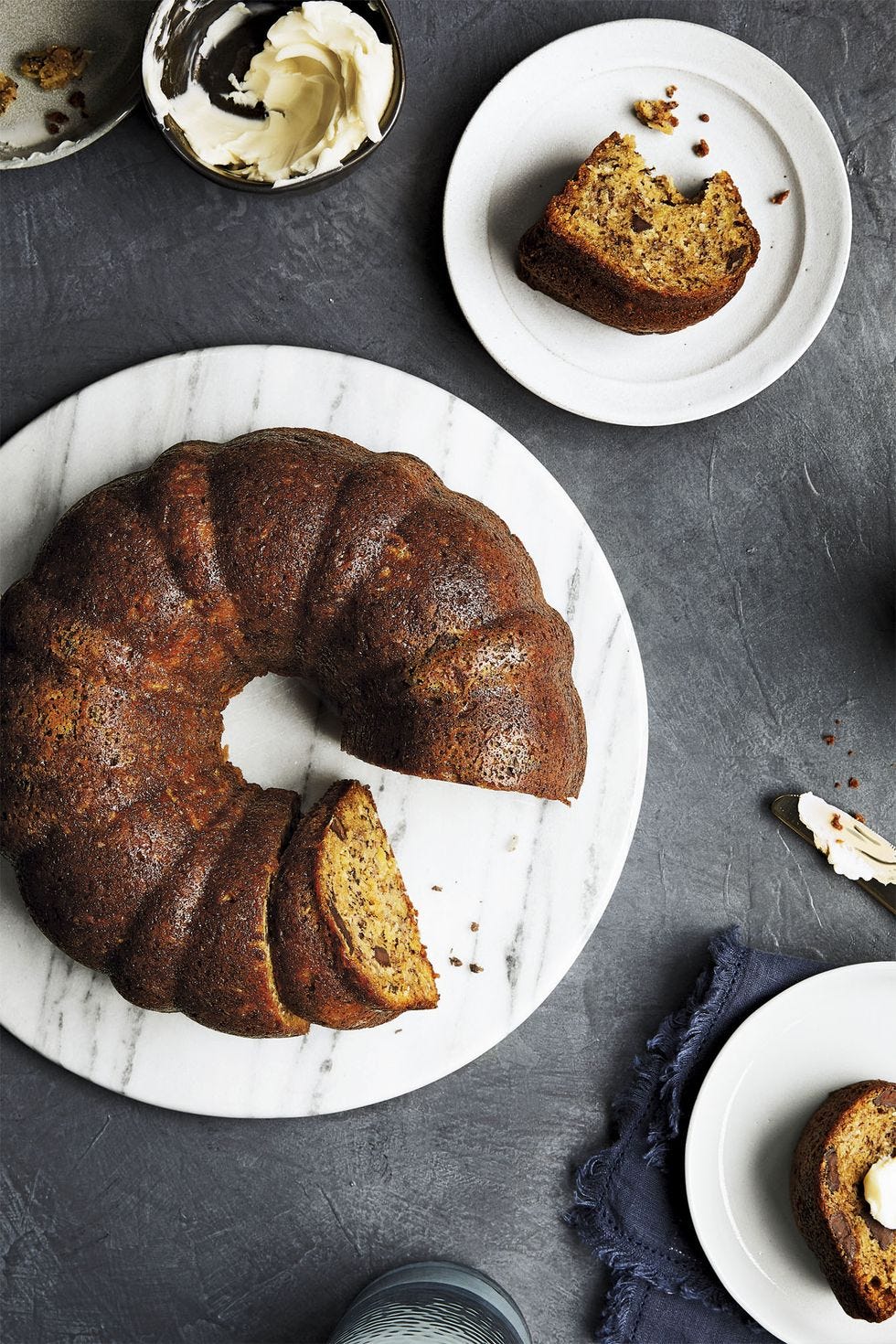 This recipe was all over Twitter when Chrissy Teigen's cookbook "Cravings: Hungry For More" first came out. It's a phenomenal banana bread, loaded with coconut flakes and chocolate chips, is good enough to give to Mom as a gift.
Ingredients
2 c. mashed very ripe bananas (from about 6 bananas)

4 large eggs

2/3 c. canola oil, plus more for the pan

2 c.  all-purpose flour, plus more for the pan

2 c. sugar

1 3.5-oz box vanilla instant pudding mix

1 tsp. baking soda

1 1/2 tsp. kosher salt

1 c. unsweetened shredded coconut

1 3.5-oz bar dark chocolate, chopped into chunks

Salted butter, for serving
Instructions 
Heat the oven to 325°F.

In a large bowl, combine the mashed bananas, eggs, and oil. In a separate bowl, combine the flour, sugar, pudding mix, baking soda, and salt. Add the dry ingredients to the wet ingredients and combine well but gently. Fold in the coconut and chocolate chunks.

Grease and flour a Bundt pan. Pour the batter into the pan.

Bake until the cake springs back when lightly pressed and a toothpick inserted in the center comes out clean, 60 to 80 minutes. (Test it with a toothpick at around 50 minutes.) Let it cool slightly in the pan, then use a butter knife to gently release the cake from the sides of the pan and around the inner circle, then flip it onto a plate.

Let it cool, and cut it into slices. Rewarm them and serve them with salty butter!
Smashed Avocado Toast With Egg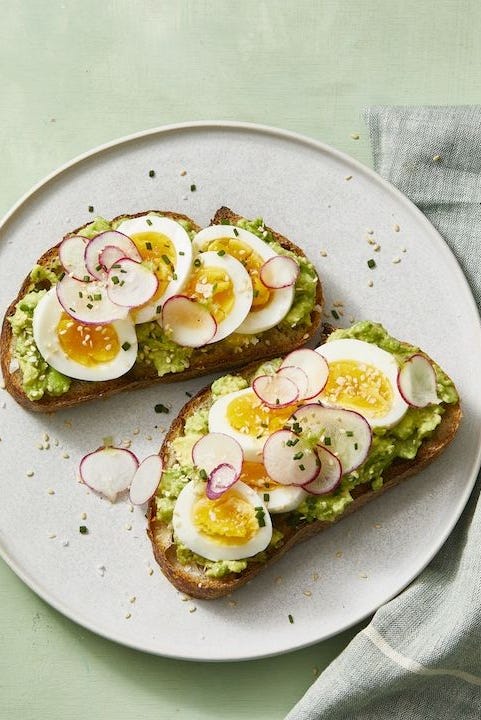 Finishing up with a brunch classic that will take a couple of minutes and will still be delicious as the other recipes in this list. This one is loaded with flavour thanks to a sprinkle of sesame seeds and a few generous slices of spicy radish. 
Ingredients
1 ripe avocado

1 tbsp. fresh lemon juice

Kosher salt and pepper

4 slices bread, toasted 

4 hard-boiled eggs, peeled and sliced

1 bunch small multicoloured radishes, thinly sliced

Chopped fresh chives and sesame seeds, for serving
Instructions
In a medium bowl, smash avocado with lemon juice and 1/4 teaspoon each salt and pepper.

Spread on toast and top with eggs and radishes and sprinkle with chives and sesame seeds. 
In conclusion: We know that there are many people who aren't in quarantine with their Moms and can't have a lovely brunch with them this year. But you can still cook these recipes and leave at their doorsteps. That will be even more special for them. 
During these uncertain times, online shopping is the right way to go when buying for your kitchens. Shop at Coolina and use the code 
GET1FREE

 
when buying 2 items to get the third for free!