Labor Day Cookout Recipes
We all know that Labor Day is the unofficial end of Summer. That's why we love going all out for this celebration and make it a memorable one. No one wants to cook indoors when it's our last chance to enjoy a big cookout with the family. But before you fire up the grill, you need to get some new recipes for the menu because why not? Here are some Labor Day recipes that will inspire you to cook something special this year. 
Parmesan Tots With Dipping Sauce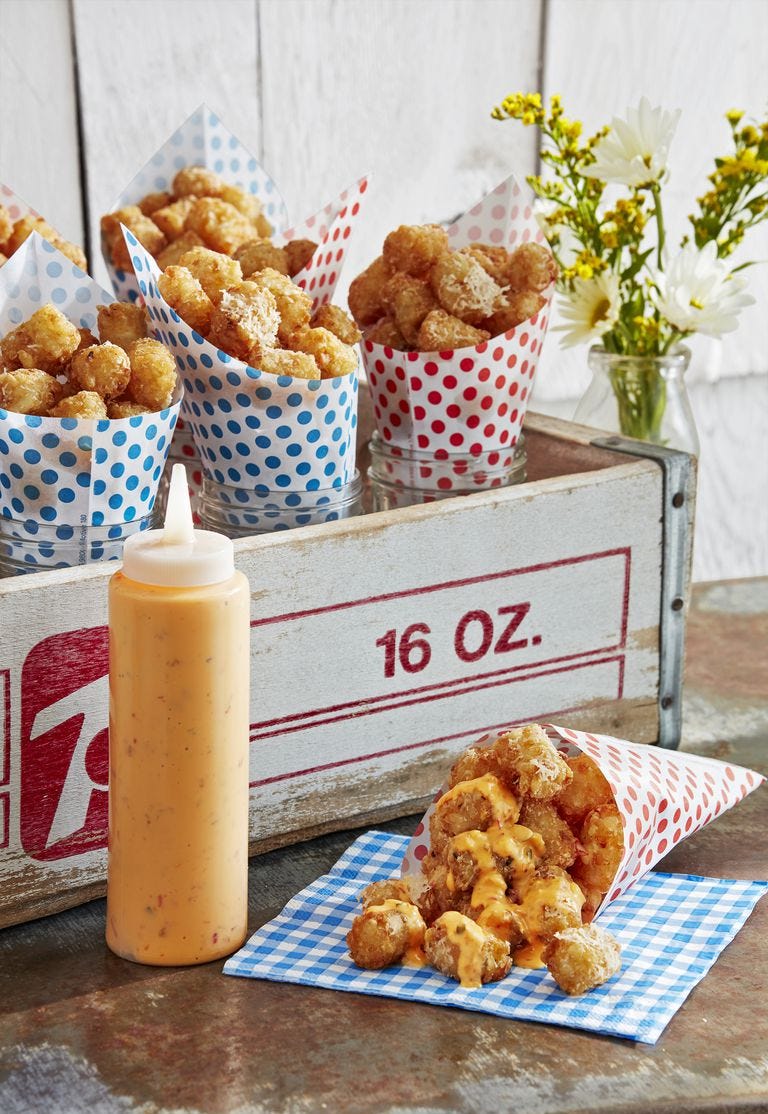 Source - countryliving
Starting off with an exceptionally easy recipe that anyone can make. Even though it needs low effort these tots are the tastiest snacks for a cookout day.
Ingredients 
3 tbsp. chili sauce

3 tbsp. mayonnaise

1 tbsp. yellow mustard

1 tbsp. sweet pickles, chopped

1 (2-lb.) bag frozen potato tots

1 1/2 tbsp. olive oil

1 1/2 tsp. garlic powder

1/2 c. Parmesan, grated
Instructions 
Combine chili sauce, mayonnaise, yellow mustard, and chopped sweet pickles. 

Put potato tots, olive oil, garlic powder on a baking sheet; roast at the temperature specified on the package for 25 minutes. Add Parmesan; roast 3 to 4 minutes. Serve with sauce. 
Foil-Pack Grilled Sweet-and-Spicy Chicken Wings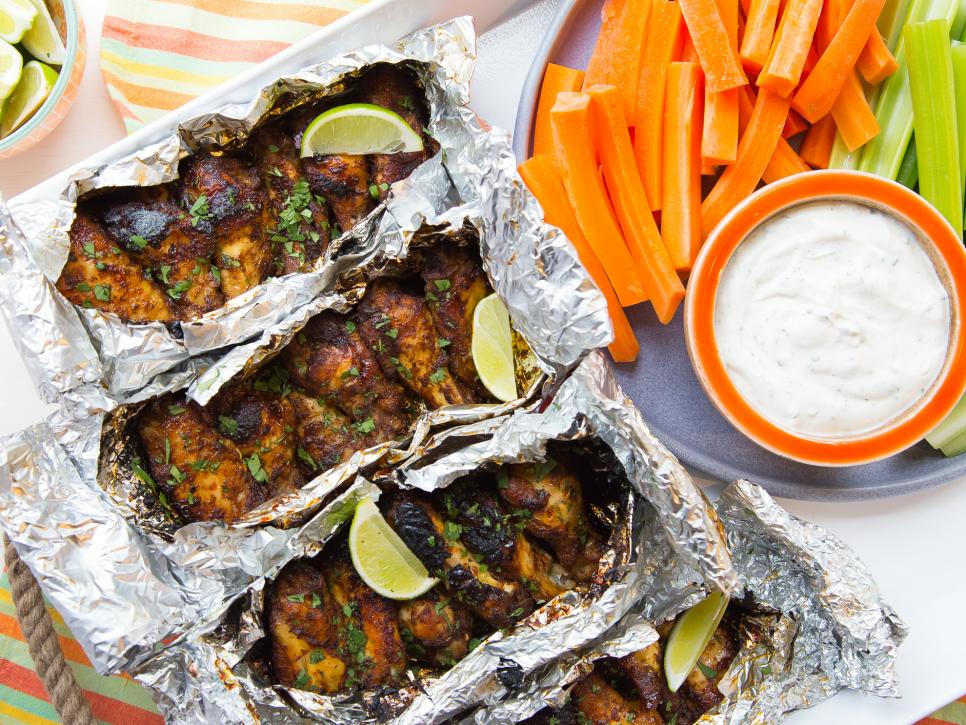 Source - foodnetwork
Oh wings, cookouts just call for them but we need new recipes to spice them up a bit or else we'll be left with a boring classic recipe. This spicy recipe is the solution! 
Ingredients 
1/4 cup chili powder

1/4 cup packed light brown sugar

1 teaspoon chipotle chili powder

Kosher salt and freshly ground black pepper

4 pounds air-chilled chicken wings (about 24), split at the joint, wingtips removed and discarded

1/4 cup vegetable oil

1/2 cup fresh cilantro, chopped

1 lime, cut into wedges
Instructions 
Whisk together the chili powder, sugar, chipotle powder, 1 teaspoon salt and 1/2 teaspoon pepper in a medium bowl to make a dry spice rub. Place the wings in a large bowl, toss with the oil, and sprinkle with the dry spice rub. Toss the wings to evenly coat, cover with plastic wrap and refrigerate for at least 1 hour and up to 2 hours.

Prepare a grill for high heat.

Tear off four 18-by-18-inch sheets of heavy duty non-stick aluminum foil. Remove the wings from the bowl, making sure to leave any excess liquid behind. Divide the wings among the foil pieces, centering them on each piece in a single layer. Sprinkle the wings with a generous pinch of salt and pepper. Bring two opposite ends of the foil together and fold twice to seal, then fold in the other sides to create leak-proof packets. Grill over high heat, turning once, until the wings are cooked through, about 25 minutes. Carefully open the packets (hot steam will escape). Scatter the cilantro over the tops and serve with the lime wedges.
Grilled Chicken Sliders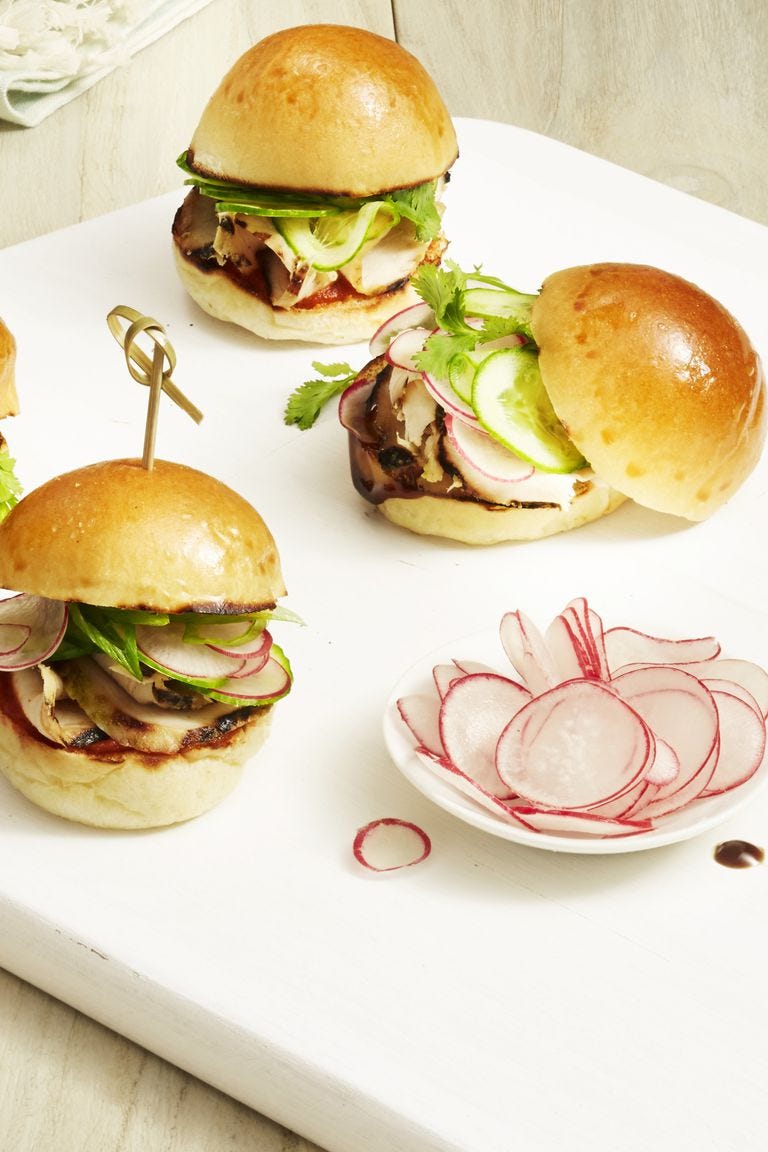 Source - goodhousekeeping
This might be an unpopular opinion, but sliders are better than regular sized burgers. There are two main reasons for this statement: They are easier to eat and you can have more than just one. 
Ingredients 
6 scallions, thinly sliced, divided 

1 large clove garlic, pressed

3 tbsp. fish sauce

1 tbsp. canola oil

2 tsp. honey

Pepper

1 lime

4 6-oz boneless, skinless chicken breast halves

1 bunch small radishes

2 mini seedless cucumbers

12 mini rolls, split and grilled

Hoisin, sriracha and cilantro, for serving
Instructions 
Transfer 2/3 of sliced scallions to a blender along with garlic, fish sauce, oil, honey, and 1/2 teaspoon coarsely ground pepper; zest lime into blender, then puree. Transfer to a bowl. Pound the thickest part of chicken breasts to 1/2 inch thick, add to marinade and toss to coat. Refrigerate at least 30 minutes or up to 2 hours.

Heat grill to medium. Remove chicken from marinade and grill, covered, until just cooked through, 4 to 6 minutes per side. Transfer to a cutting board and let rest 5 minutes before slicing. 

Meanwhile, very thinly slice radishes and cucumbers. Toss with juice of lime, then fold in remaining 1/3 of scallions. Spread rolls with hoisin and sriracha, if using. Top with chicken, radish salad and cilantro, if using.
Double Red-Eye St. Louis–Style Ribs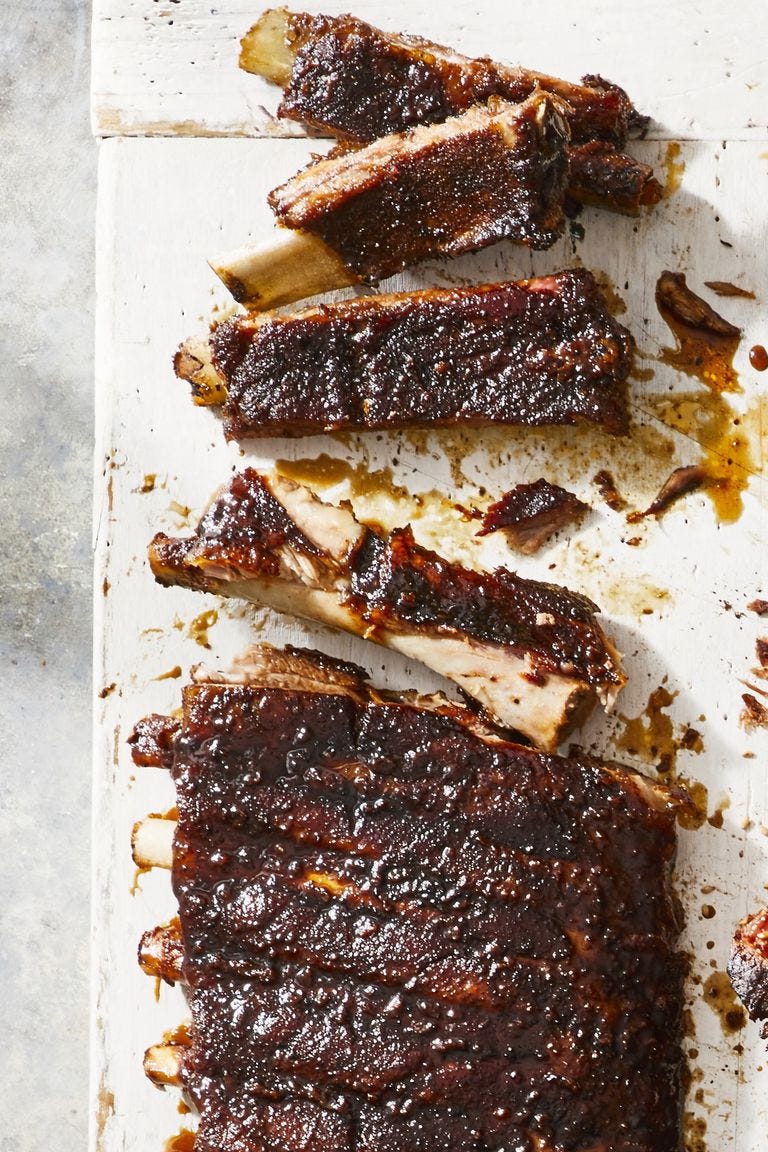 Source - goodhousekeeping
If you're in need of a caffeine boost to get over the fact that summer is over, just add instant coffee to your homemade BBQ sauce. 
Ingredients 
2 tbsp. sweet paprika

1 tbsp. ground coffee

1 tsp. garlic powder

1 tsp. chili powder

1/2 tsp. ground cinnamon

Kosher salt and pepper

1 rack St. Louis–style ribs (about 2 lbs)

1/2 c. sugar

1 1/2 tbsp. instant coffee
Instructions 
Heat oven to 300°F. In a medium bowl, whisk together paprika, ground coffee, garlic powder, chili powder, cinnamon, 2 1/2 teaspoons salt, and 1/2 teaspoon pepper. Place ribs on a large piece of foil on a rimmed baking sheet and rub with spice mixture. Cover tightly with foil and bake until very tender and meat is pulling away from bones, 2 1/2 to 3 hours. 

Meanwhile, in a small saucepan, combine sugar, instant coffee, and 1/2 cup water. Bring to a boil and reduce by half, 10 to 12 minutes. Remove coffee syrup from heat and let cool. 

Remove ribs from the oven and transfer to the cutting board. Increase oven temperature to broil and line sheet pan with foil. Unwrap ribs and place on the prepared pan. 

Brush ribs with 1/4 cup coffee syrup and broil until beginning to char, 1 to 2 minutes. Brush with remaining coffee syrup and broil until sticky and sizzling, 1 to 2 minutes more. Let ribs rest at least 5 minutes before cutting into pieces. 
Grilled Potatoes
Source - bonappetit
And last, but definitely not least, delicious Miso-y grilled potatoes. You just can't go wrong with this recipe; everybody loves themselves some crispy potatoes on a holiday celebration. 
Ingredients 
1½ lb. baby Yukon Gold potatoes

½ cup Diamond Crystal or ¼ cup Morton kosher salt

4 Tbsp. unsalted butter

2 Tbsp. red miso

1 garlic clove, finely chopped

1 Tbsp. seasoned rice vinegar

2 Tbsp. chopped parsley

Freshly ground black pepper
Instructions 
Prepare a grill for medium-high heat. Bring potatoes, salt, and 1 quart water to a boil in a medium saucepan over medium-high heat. Reduce heat and simmer until tender, 12–14 minutes; drain. Grill potatoes, turning often with tongs, until lightly charred, 6–8 minutes.

Meanwhile, set a medium skillet, preferably cast iron, on the grill. Place butter and miso in a skillet and cook, stirring, until butter is melted and mixture is smooth, about 2 minutes. Remove from heat; stir in garlic and vinegar. Season with pepper.

Transfer potatoes to skillet, breaking some in half with tongs. Toss to coat in miso butter. Add parsley; toss again.
In conclusion: Whatever you end up cooking, make sure that you have a lot of fun with the family, especially this year. It's the end of Summer, make it count!