3 EASY AND FLAVORFUL COCKTAILS FOR VALENTINE'S DAY
We have already covered your dinner plans this Valentine's Day, so you and your loved ones will be well-fed and happy. Now, we take it upon us to find the perfect Valentine's Day cocktails that you can make at home to set the mood and impress anyone you want. Because believe us, they'll be IMPRESSED with what we've got in store for you!
To set the tone, all of the cocktails we've picked are Valentine's inspired - just look at the colors! From light reds to dark reds, we've got it all. Lucky for you, all of them use ingredients that you may already have in your kitchen. All you have to do is pick the one that'll tickle your taste buds ;) 
Cranberry & Orange Gin Fizz 
via darngoodveggies.com
This crimson red cocktail will not only look amazing on your dinner table, but its intense flavors will make you feel like you've been missing out all your life. Make it from scratch with homemade cranberry sauce, and you'll be the king or queen of Valentine's Day!
All you need:
1 cup fresh or frozen cranberries

¼ cup water

⅓ cup maple syrup

⅔ cup orange juice

½ cup pomegranate juice

¼ cup gin

sparkling water, as much as your heart desires
Start by combining the cranberries, water, and maple syrup in a saucepan over medium heat. Bring this mixture to a simmer and cook, stirring frequently until the cranberries get all soft and jammy. Then, remove from the heat and mash the cranberries into a paste with the help of a fork.
Add your homemade cranberry sauce and the rest of the ingredients, except the sparkling water, into a pitcher and stir well to combine. Pour the mixture into glasses filled with ice. Top with sparkling water, stir and enjoy!
Strawberry Tequila Sunrise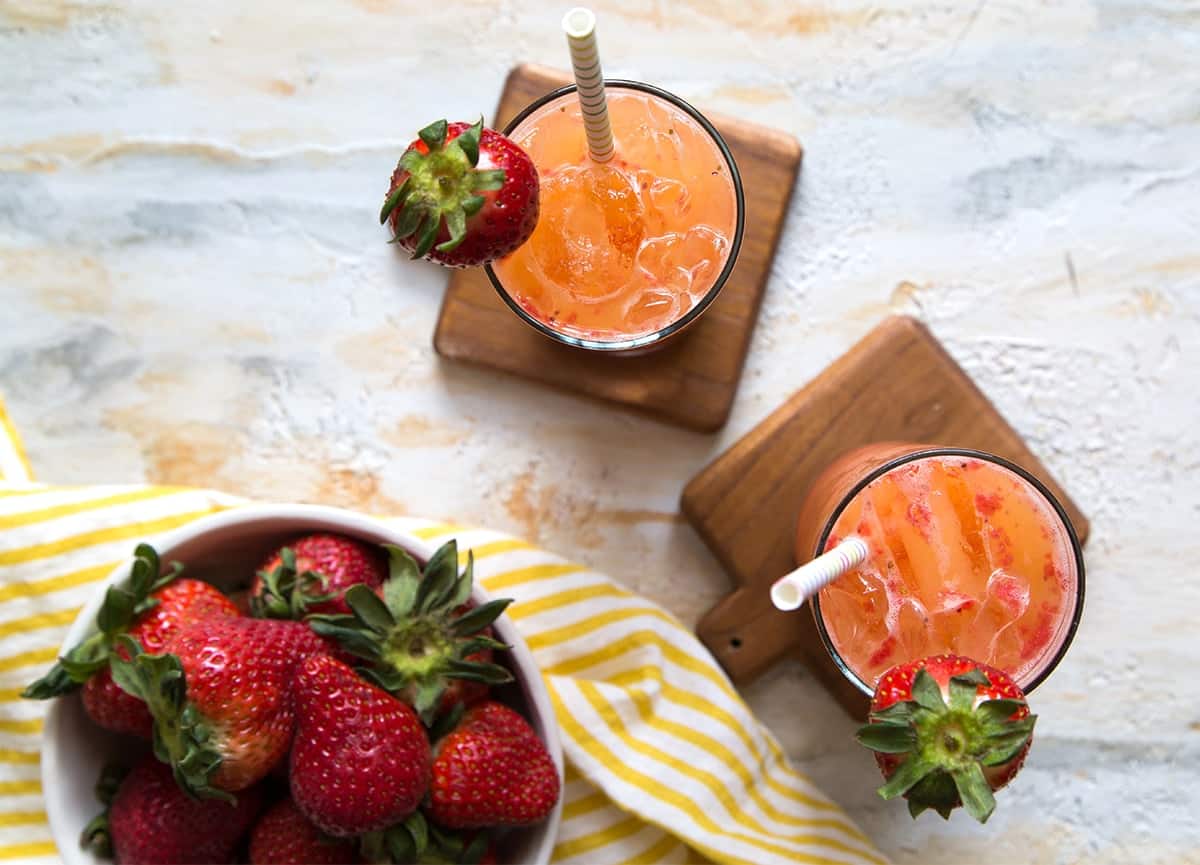 via thelittleepicurean.com
A berry good twist on your classic tequila sunrise. You're literally only replacing grenadine syrup with a fresh homemade strawberry puree, and you got yourself a new exotic cocktail.
Ingredients: (for 2)
2oz strawberry puree

6oz orange juice

3oz tequila
Start by making the strawberry puree. Get ripe fresh strawberries and blend them until smooth. Strain, if desired, and then put it in the fridge until you're ready to use it.
Once you're ready to make the cocktail, pour the strawberry puree into tall glasses. Add orange juice and tequila, and stir. That's it! A fresh little twist on the classic cocktail that will get be loved by everyone.
Earl Grey Blackberry Bourbon Cocktail 
via beginningwithbergamot.com
Our last cocktail idea is for all you bourbon lovers. Darker in color and more intense in flavor, this is definitely a special occasion drink. 
Ingredients: (for two)
3oz bourbon

3oz chilled Earl Grey tea

1oz shot simple syrup

2 blackberries

1oz St. George Spiced Pear Liqueur (optional)

Garnish with a blackberry and/or a sprig of rosemary
To start, muddle your 2 blackberries with simple syrup. Add bourbon, the chilled Earl Grey tea, Pear Liqueur, and ice. Stir it all up until the mixture turns cold. Strain through a fine-mesh strainer into 2 glasses. Now, decorate your drinks with blackberry and/or a sprig of rosemary for a fancier look. Voila! You're ready.
We hope that these super easy, quick yet delectable cocktail recipes will help you elevate your dinner table and impress your loved ones.
P.S. There's an amazing GIVEAWAY taking place on our Instagram page, so make sure to follow the rules (which will take less than a minute) to enter and win one of our bestselling knives!