Easy Mother's Day Cocktail Recipes
Although we can't take our moms to fancy restaurants this year, we can still create that atmosphere at home. One of the best things you can do for that is making a delicious restaurant approved cocktail. And that's when our recipes come in handy. Here we have selected some recipes of appetizing cocktails, which will take no time to make and will be an amazing treat for your mom. 
Mimosa Cocktail
Starting off with a classic one. You can never go wrong with a tall glass of delicious Mimosa served with a fruit salad. It is the perfect fresh cocktail to brighten your mom's mood and make her day better. 
Ingredients
1/2 ounce Cointreau

1 1/2 ounce fresh-squeezed orange juice (if you can't get that, Simply Orange is a good substitute)

3 1/2 ounce chilled champagne (Brut)
Instructions
Pour the triple sec into a champagne flute.

Pour in the orange juice slowly, letting it stir the triple sec.

Pour in the champagne slowly, letting it stir the orange juice and triple sec mixture.

Optionally, garnish with an orange slice.
Cucumber Lime Tequila Cocktail
All moms love fresh veggies and this cocktail is all about that. Cucumber juice and lime bring out tequila's sweet, peppery flavours and make this cocktail a beautiful bright green. Drink as is, or top with club soda to make it a Highball.
Ingredients
3 ounces of fresh cucumber juice

1 1/2 ounces of lime juice

1 1/2 ounces of tequila

sugar/ stevia to taste (~1/4-1/2 a teaspoon per drink)

club soda (~3 ounces)

lime and cucumber wedges for garnish
Instructions
Fix a small glass with ice.

Mix the cucumber juice, lime juice, tequila, and stevia/ sugar together in the glass.

Fill up the glass the rest of the way with club soda (~3 ounces). This step can be skipped if desired.

Garnish and ENJOY!!
Aperol Spritz
Spring is the best time for all types of spritz but Aperol spritz is a huge favorite for a lot of women. So keep this recipe in mind when choosing your mother's day cocktail and give a try even before to see if you can make it with the right portions. 
Ingredients (per cocktail)
Ice

3 ounces (1 part) Aperol

3 ounces (1 part) dry Prosecco

1 ounce (a splash) club soda or unflavored sparkling water

Orange slice, for garnish
Instructions
Add ice to a wine glass until it is nearly full. Pour in the Aperol.

Pour in an equal amount of Prosecco. Top your drink off with a splash of club soda and add a slice of orange. Enjoy!
Tropical Strawberry Hibiscus Rum Smash
This cocktail will have mom feeling like she's on a tropical island getaway. Hibiscus tea, tropical juices, and coconut water pair perfectly with rum, while lime and mint give a welcome break from all the sweetness.
Ingredients 
2 tablespoons dried hibiscus flowers

1 teaspoon honey

8 fresh mint leaves

1/2 a lime, quartered

1/4 cup mango, pineapple, or passion fruit juice

1/4 cup coconut water

2 ounces rum

sparkling water, for topping

2 strawberries, sliced
Instructions
Bring 1 cup of water to a boil in a medium-size pot. Remove from the heat, add the hibiscus flowers and 1-2 teaspoons, honey. Cover and let steep for 10 minutes. Strain into a pitcher and discard the hibiscus flowers. 

In a tall glass, muddle the lime and mint leaves. Add a handful of crushed ice, the mango juice, coconut water and the rum, gently mix to combine. Pour sparkling water over top to about 3/4 the way up the glass. Add the sliced strawberries and top with hibiscus tea. 
East Bayside Cocktail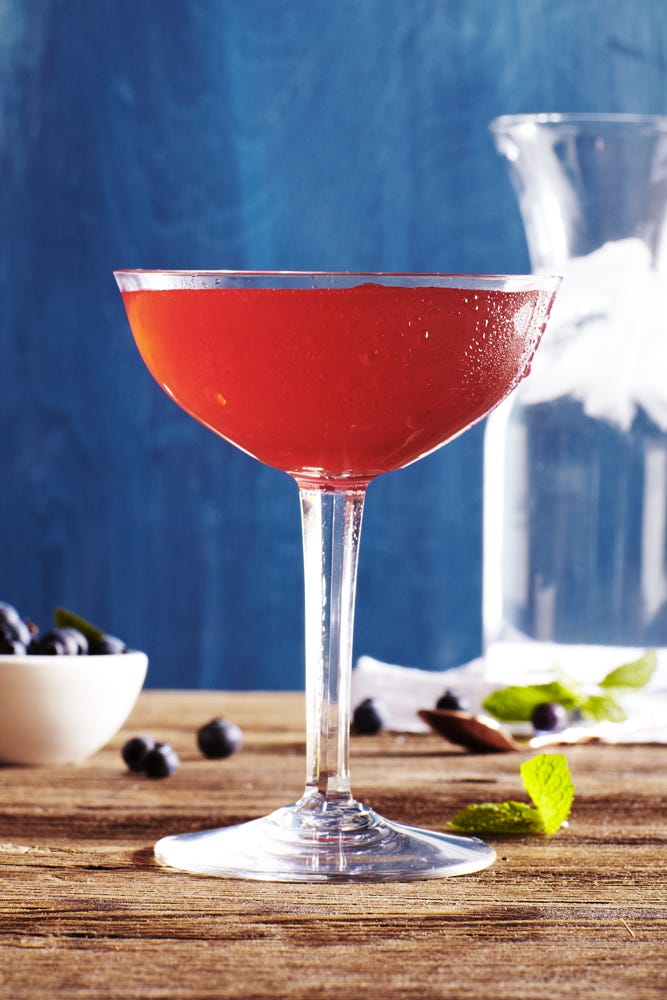 This one is for moms who do a lot of work during this lockdown. It will relax them and make them forget about all the work and bad thoughts lingering in their minds. But don't worry, it's not as strong as it sounds. 
Ingredients
2 oz. Gin

1 oz. fresh lime juice

1 oz. simple syrup

7 fresh mint leaves

5 fresh blueberries

Ice
Instructions 
In a cocktail shaker, combine gin, fresh lime juice, simple syrup, mint leaves, blueberries, and ice. Shake vigorously.

With a fine-mesh strainer, strain into a cocktail glass. Garnish with a mint leaf.
In conclusion: In case if you don't live with your mom and you obviously can't visit her on her special day because of the quarantine, you can still make one of these cocktails and leave it at her doorstep. She will appreciate it more than anything. And if you're living with your mom or with a mom, then give them the opportunity to relax on their day with a beautiful glass of a delicious cocktail. 
Mother's Day is getting close and the only way we can shop for gifts is online. So we have a discount code for you if you want to shop for presents at Coolina. Use the code GET1FREE when buying 2 items and get the third for free!