Easy 4th of July DIY Ideas: Patriotic Decorations
You've probably already figured out your BBQ recipe and your Dessert recipe for the 4th of July celebration. But what about the decorations? There can't be a 4th of July family party without patriotic decorations. Skip the shopping this year and make some of your own festive decorations with these super easy DIY ideas. 
DIY Patriotic Windsock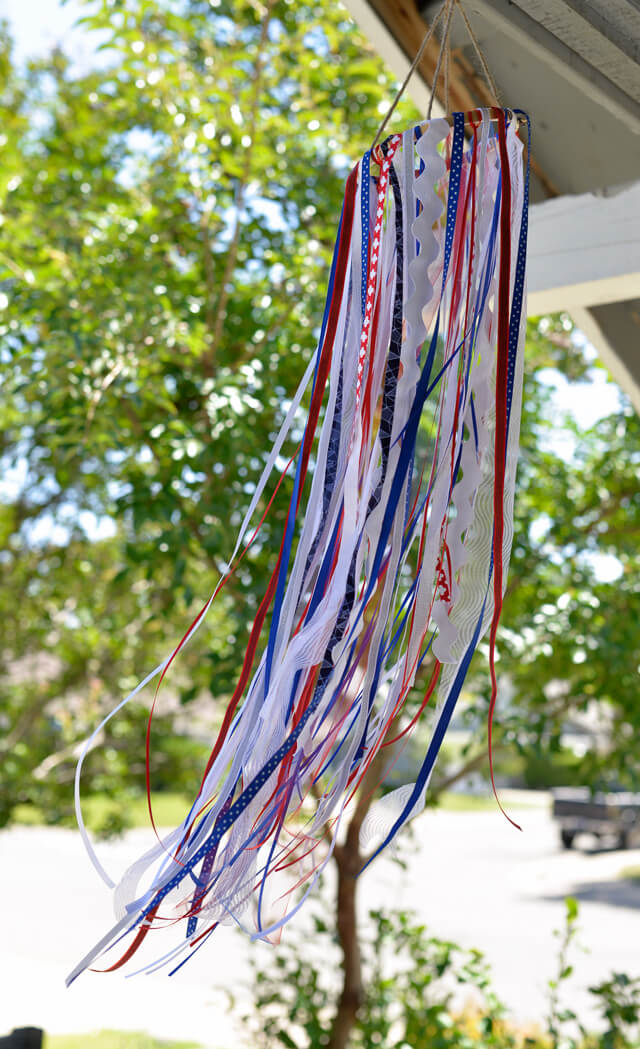 Source - heyletsmakestuff
Windsocks are such gorgeous things that it's a shame to not have a 4th of July themed one. Making it can be a fun activity to do with your kids in the garden and it will single-handedly make the whole space look festive wherever you hang it. 
Supplies
6″ Wood Embroidery Hoop

Swivel Clasp (a regular S-Hook would work as well)

Skinny ribbon in red, white, and blue

Thicker ribbon in red sparkles, white sparkles, and blue polka dots

Jumbo ric rac

Tulle in red, white glitter, and blue

Hot glue gun and glue

Long red, white, and blue fabric scraps

Twine or another ribbon for hanging
Directions
The trim is between 1.5 feet and 2 feet in length, but you can make it as long or as short as you want! 

For the skinny ribbon, cut it twice as long as your desired length and loop it around the hoop.

For the other ribbon, ric rac, and fabric strips, hot glue it to the inside of the hoop, allowing it to come up and over the top of the hoop. This will help hide some of the hoops. Keep going around the hoop!

For the tulle, glue it to the inside of the hoop, so it sort of all lives in the center of the windsock. This is a great way to create volume without the tulle hiding all the ribbon.

To hang the windsock, cut two equal lengths of twine (or ribbon or whatever). Thread them through the clip (if you are using an "S" hook, you can skip the threading-it-through step since you can just add it after).

Glue the twine to the inside of the hoop, spacing the ends equally around the hoop, one in each quadrant. 

Glue a piece of red ribbon over the end to make sure it's secured. If it's blowing around in the wind, you don't want it to fall apart!
Patriotic Wreath
Source - 259west
This patriotic clothespin wreath is so fun and easy to make, perfect to get those wreath-making juices flowing. It will inspire the neighbors to make one as well bringing everyone's spirits a little up during these tough times. 
Supplies
70-80 Clothespins

Sturdy Ring 

Red, White & Blue Spray Paint

Stars 
Directions
Check how many clothespins you can fit on your ring and figure out how many pins you'll be painting which color. (the actual flag has 7 red "stripes" and 6 white "stripes")

Paint the ring, stars, and 24 pins white.

Then while that dries, paint the red and blue pins.

Once everything dries, just put all the pins on the ring and then hot glue the stars onto the blue area.
Patriotic Balloon Flag
Source - ellaclaireinspired
It doesn't get easier than this simple 4th of July decorating idea. Balloons have the effect of making everything festive instantly. Plus, this patriotic balloon flag will be the perfect backdrop for family photos that you'll cherish forever. 
Supplies 
red, white and blue balloons (preferably self-linking)

Balloon Time Helium Tank

packing tape

string

a scrap board, bricks or books to weigh it down
Directions 
Blow the balloons. Start with a white balloon (the bottom stripe color of our flag) and add a long string. 

Roll big pieces of tape and stack the balloons on top of each other according to the row and pattern for our flag.

Tie them to a board or something else to weigh them down.

If you're doing this outside and there's a wind, you can tape the tops of the balloon stacks directly to the wall. 
4th of July Painted Lawn Stars
Get some grass-friendly spray paint, a DIY stencil to form decorative star decals, and start painting. We guarantee that your lawn will be the most patriotic one on the block. 
Supplies 
A piece of cardboard with a star cut out 

Grass-friendly spray paint
Directions 
Cut out a star of a cardboard stencil

Make the star outlines by painting around that star

Keep in mind that the paint only comes off as the grass grows out and you mow it off.
Patriotic Confetti Poppers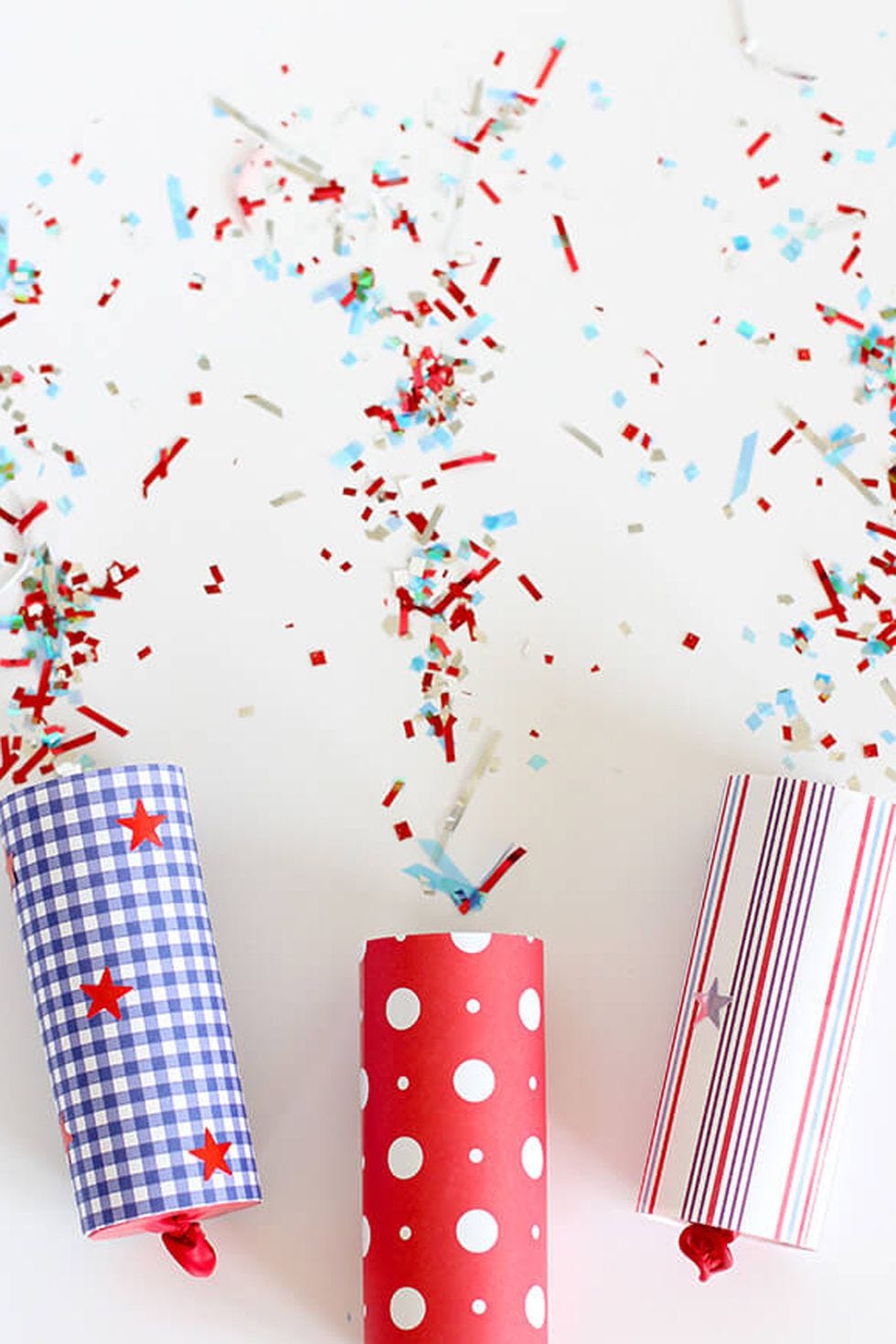 These easy DIY confetti poppers make a fun and safe alternative to sparklers, which is perfect if you have younger kids. 
Supplies 
9″ Balloons

Empty Toilet Paper Tubes

Packing Tape

For Decorating – patterned paper, stickers, glitter, etc.

For DIY Confetti – metallic tissue paper and/or gift bag filler and Fringe Scissors or Pre-Made Patriotic Confetti
Directions 
Knot the balloon, and cut off the tip. Stretch the balloon tightly around the toilet paper tube, and secure it in place with a strip of packing tape.

Wrap the tubes with 4th of July scrapbook paper, secure the paper with tape, and add a few star sticker embellishments. 

Add the confetti to the tube – use a funnel or a rolled piece of paper to help guide the confetti into the tube if necessary.

To launch the confetti, pull down on the bottom knot of the balloon, and let go. The kids will love the loud "Pop". 
In conclusion: Involve the kids, involve the whole family, and have some well-deserved fun; It's a tough year. 4th of July is all about that quality family time and making patriotic decorations all together is exactly that.