Delicious Labor Day Desserts
Cookouts usually end with a delicious dessert that rounds up the day and makes everyone happy. And since Labor day pretty much announces the end of summer, we all want to have a nice cookout. So we've rounded up our favorite dessert recipes for Labor Day celebrations. 
S'mores Cupcakes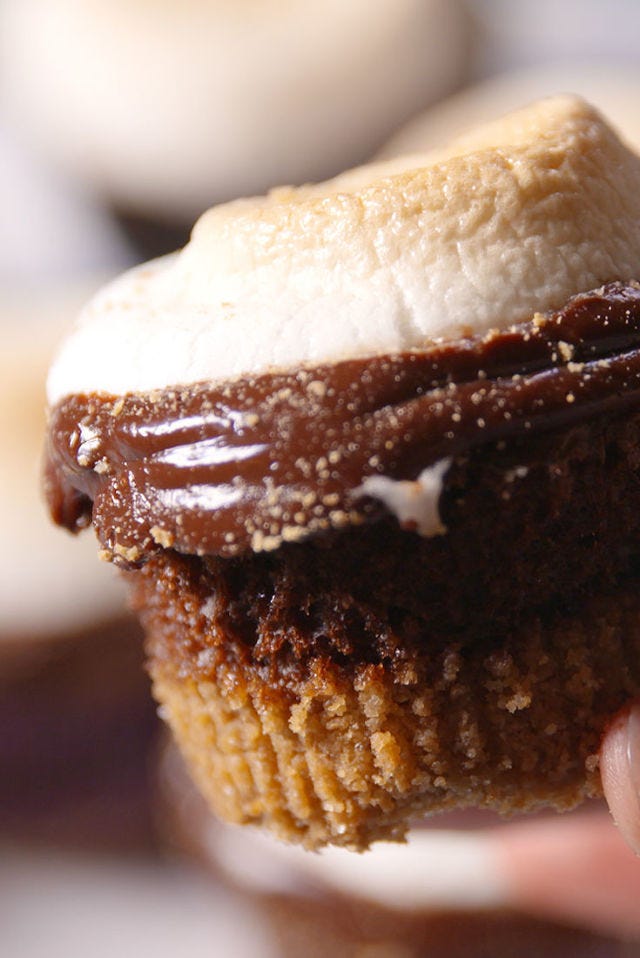 Source - delish
Summer might be ending but we can always have s'mores especially in the form of a delicious cupcake. 
Ingredients 
3 c. graham cracker crumbs (about 20 full-sheet graham crackers)

12 tbsp. melted butter

1/2 c. granulated sugar

Pinch kosher salt

Devil's food cake mix, plus ingredients called for on box

1 c. chocolate chips

1/2 c. heavy cream

24 marshmallows
Instructions 
Preheat the oven to 350° and line two 12-cup muffin tins with cupcake liners.

Make cupcakes: Combine graham cracker crumbs, melted butter, sugar, and salt in a small bowl. Press about 1 tablespoon of mixture into each cupcake liner to make mini crusts.

Prepare cake mix according to box instructions and divide batter between liners and bake for a couple minutes less than the box instructs, about 16 minutes.

While the cupcakes are baking, make a quick ganache: Place chocolate chips in a medium, heatproof bowl and set aside. Heat heavy cream in a small saucepan over medium heat and bring to a gentle simmer. Pour hot cream over chocolate chips, whisking constantly until smooth.

When cupcakes are almost done baking, pull them out and spoon about a tablespoon of ganache onto each cupcake, then top each with a marshmallow. (If it feels unwieldy, place the marshmallow on its side.) Return trays to the oven and bake—watching closely!—until marshmallows are golden and very soft, 4 to 5 minutes more.
American Pie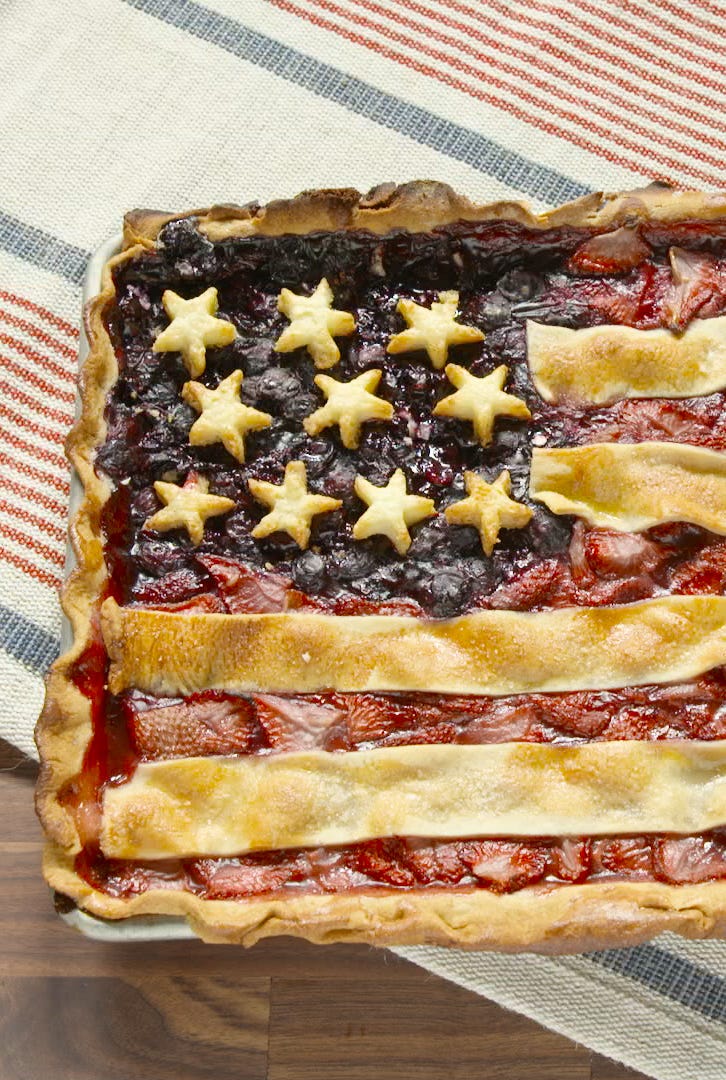 Source - delish
A bit of a patriotic touch with this gorgeous American pie, which is also very tasty. Get the family involved and make this pie for this year's Labor Day. 
Ingredients 
2 refrigerated pie crusts (unbaked)

5 c. strawberries

3 c. blueberries

1/2 c. cornstarch, divided

3/4 c. sugar, divided (plus more for sprinkling)

1 lemon (zest and juice)

egg wash (1 egg + 1 tbsp. heavy cream)
Instructions 
Preheat the oven to 400 degrees F.

Make the base. Roll out the base of the pie dough into a large rectangle, about 15x12-in. Transfer the dough into a 12x9x1-in baking sheet or jelly roll pan. Gently press the dough along the edges. Fold the edges under and crimp. Transfer to the refrigerator while you prepare the other crust.

Make the stars and stripes. Roll out a second piece of pie dough. Use about 1/4 of the dough to cut out stars with a small star cookie cutter. Using a paring knife (or pastry wheel), cut long 1-in thick stripes lengthwise using the rest of the dough. Refrigerate until ready to use.

Make the fillings. In a medium bowl, add blueberries, 1/4 c. sugar, 1/4 c. cornstarch and the juice and zest of 1/2 lemon. Stir to combine. In a separate bowl, add strawberries, 1/2 c. sugar, 1/4 c. cornstarch and the juice and zest of 1/2 lemon. Stir to combine.

Make the pie. Fold aluminum foil into a thin strip, about 1 1/2-in wide. Then fold the strip into a right angle about 5x4-in. Remove the base crust from the refrigerator and place the foil into the upper left hand corner of the crust to form a small rectangle. Spoon the blueberry filling into the foil-lined rectangular portion. Then spoon the strawberry filling into the rest of the crust. Remove the foil.

Assemble and bake! Then place pastry stars on top of the blueberry mixture. Lay the stripes lengthwise across the strawberry filling, leaving about 1-in between each stripe. Brush the egg wash onto the pie crusts and sprinkle with sugar. Bake for 50 minutes, until pie crust is golden and the filling is bubbling. Let cool for at least an hour before serving.
Oatmeal Cookie Ice Cream Sandwiches
You can never go wrong with an oatmeal cookie recipe, so if you want to keep it safe and familiar, go with this one. 
Ingredients 
1/2 cup butter, softened

1/3 cup sugar

1/3 cup packed dark brown sugar

1 large egg, room temperature

2 teaspoons vanilla extract

2/3 cup all-purpose flour

1/2 teaspoon baking soda

1/4 teaspoon salt

1/4 teaspoon ground cinnamon

1-1/2 cups quick-cooking oats

1/2 cup finely chopped semisweet chocolate

3 cups dulce de leche ice cream, softened if necessary

1/4 cup brickle toffee bits
Instructions 
Preheat the oven to 350°. In a large bowl, cream butter and sugars until light and fluffy. Beat in egg and vanilla. In another bowl, whisk flour, baking soda, salt and cinnamon; gradually beat into the creamed mixture. Stir in oats and chocolate.

Shape dough into twenty 1-1/4-in. balls. Place 2-1/2 in. apart on ungreased baking sheets; flatten slightly with bottom of a glass dipped in sugar, smoothing edges if necessary. Bake until golden brown, 10-13 minutes. Transfer from pans to wire racks to cool completely.

To assemble, place about 1/4 cup ice cream on bottom of a cookie; sprinkle with 1 teaspoon toffee bits. Top with a second cookie, pressing gently to flatten ice cream. Place on a baking sheet; freeze overnight or until firm. Repeat with remaining cookies and ice cream. For longer storage, wrap frozen sandwiches individually and return to the freezer
Grilled Peach Crumble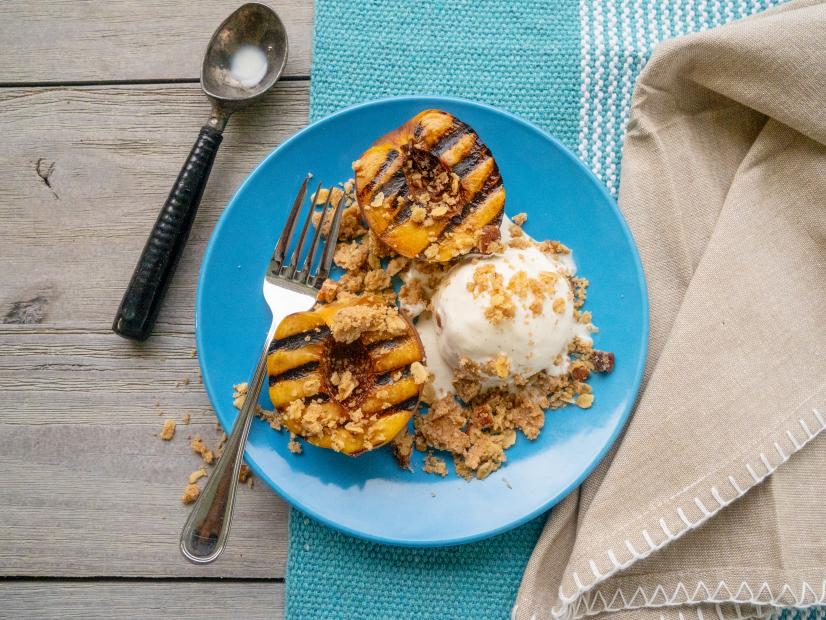 This one is very refreshing and quite an appropriate dessert to finish off the hot summer season. It doesn't get better than grilled peaches paired with vanilla ice cream. 
Ingredients 
1/2 cup all-purpose flour

1/2 cup rolled oats 

1/2 cup chopped pecans 

3 tablespoons brown sugar 

1 teaspoon kosher salt 

1/2 teaspoon ground cinnamon 

1 vanilla bean, split and seeded 

1/2 cup (1 stick) unsalted butter, cubed and kept cold

2 pounds ripe peaches (about 4 peaches), pitted and halved 

2 tablespoons olive oil 

Vanilla ice cream, for serving 
Instructions 
Preheat the oven to 400 degrees F. Line a baking sheet with parchment paper. Heat a grill or grill pan over medium-high heat.

Stir together the flour, oats, pecans, sugar, salt and cinnamon in a medium bowl. Add half the vanilla bean seeds and all the cubed butter. Use your hands, a fork or a pastry cutter to blend the butter into the dry mixture until it is evenly combined in small clumps and crumbles. Spread the mixture on the lined baking sheet and bake until the clumps are golden and crisp, 15 to 20 minutes. Set aside until ready to use, or crumble and store in an airtight container for up to 1 week.

Meanwhile, arrange the peaches cut-side up on a baking sheet or plate. Mix the remaining vanilla bean seeds with the olive oil in a small bowl. Brush the peaches with the mixture.

Add the peaches cut-side down to the grill. Cook, without flipping, until the peaches are charred on the cut side, but not mush, 2 to 3 minutes. Remove the peaches to a serving dish. Top with the crumble. Serve each peach with a scoop of ice cream and some extra crumble.
Strawberry Meringue Roulade with Raspberry Sauce
This dessert has the ultimate summer flavor that you will reminisce about in the winter. 
Ingredients 
Vegetable oil, for brushing

 4 large egg whites

 1 1/4 cups superfine sugar

 3/4 pound fresh raspberries

 2 tablespoons fresh lemon juice

 1 1/2 cups heavy cream

 2 tablespoons confectioners' sugar

 2 tablespoons kirsch

 1/2 pound strawberries, hulled and thinly sliced
Instructions 
Preheat the oven to 350°. Line a 9-by-13-inch baking pan with foil, leaving a 1-inch overhang on the long sides. Lightly brush the foil and sides of the pan with vegetable oil.

In the bowl of a standing electric mixer fitted with the whisk, beat the egg whites at medium-high speed to soft peaks. Beat in 1 cup of the superfine sugar at high speed until the whites are stiff, 2 to 3 minutes. Spread the meringue evenly in the pan. Bake in the center of the oven for about 15 minutes, until lightly colored and springy. Using the foil, transfer the meringue to a rack to cool.

Meanwhile, in a food processor, puree the raspberries, lemon juice and remaining 1/4 cup of superfine sugar until smooth; strain through a fine sieve into a bowl. Cover and refrigerate until chilled, about 30 minutes.

Wipe out the bowl of the mixer. Add the heavy cream, confectioners' sugar and kirsch and beat until the cream forms soft peaks.

Turn the meringue so a long side is facing you. Spread the whipped cream over the meringue, leaving a 1 1/2-inch border on the long side nearest you. Arrange the strawberries on top, pressing them into the cream. Starting at the long side nearest you, and using the foil, carefully roll up the meringue jelly roll–style; the top will crack. Wrap the roulade in the foil and refrigerate until chilled, at least 45 minutes or up to 5 hours. Unwrap the roulade and cut into 1-inch-thick slices. Serve with the raspberry sauce.
In conclusion: Desserts are a must for any holiday and Labor Day is not an exception. So choose one of these recipes and