A Full Course Easy Valentine's Day Dinner
Valentine's Day is right around the corner, and it's the perfect time to show someone just how much you care about them. Be it your significant other, your best friends, or your family, the day should be about the celebration of love, and what better way to show appreciation for someone than by cooking for them? It's the most intimate, easy, and loving thing you can do - and believe us, the way to ANYONE's heart is through their stomach.
To make things easier for you, so you don't have to frantically search the internet for easy recipes an hour before dinner, we have compiled a list of an easy, full course meal for you to make without breaking a sweat. So without further ado, let's get into the yummy bits.
Healthy Quinoa and Avocado Salad
credits: feelgoodfoodie.net
Like any full course meal, we are starting with a light, fresh salad that will prep your palate for what's to come.
Ingredients for the Salad:
1 cup uncooked quinoa

1 cup cherry tomatoes, halved

1 large cucumber, diced

¼ red onion, finely chopped

2 large ripe avocados, chopped

¼ cup chopped cilantro, to garnish
Ingredients for the Dressing:
¼ cup olive oil

1 tbsp lemon juice

1 tsp Dijon mustard

1 garlic clove

½ tsp salt
Start cooking the quinoa, by placing it in a pan over medium heat. Toast without oil or salt for about 6 minutes until the seeds pop and become aromatic. Then, add 2 cups of water, bring to a boil, then turn the heat to low. Cover and simmer for 15 minutes. Remove from the heat and keep the pan covered for an additional 10 minutes. Fluff with a fork, and season with sea salt.
To make the dressing, whisk together all the ingredients.
When the quinoa has cooled down, place it in a bowl, and add the rest of the ingredients for the salad. Pour in the dressing and mix gently to combine. Voila, you're done!
Creamy Tuscan Salmon with Garlic
credits: eatwell101.com
We know, we know. Your stomach's already growling just looking at this juicy photo. Well, keep on reading - after all, this is the main dish to impress your loved ones!
Ingredients:
3-4 salmon fillets

2 teaspoons olive oil

2 tablespoons butter

5 cloves garlic, finely diced

1 small yellow onion, diced

⅓ cup vegetable broth

5 ounces sun-dried tomatoes in oil, drained of oil

1 ¾ cups heavy cream

Salt and pepper, to taste

3 cups baby spinach leaves

½ cup grated parmesan

1 tablespoon fresh parsley, chopped
Commence by heating the olive oil in a large skillet over medium-high heat. Season the salmon fillets on both sides with salt and pepper, and sear in the hot pan, flesh-side down first until cooked to your liking (or 5 minutes on each side). Once salmon fillets are cooked through, remove from the pan and set aside.
In the same pan, melt the butter in the remaining juice from the salmon. Add in the garlic and fry for about a minute. Add onion and stir fry until translucent. Add the sun-dried tomatoes and fry for 1-2 minutes so they release their flavours. Finally, pour in the vegetable broth, and allow the sauce to reduce down slightly. 
Reduce heat to low, add the heavy cream, and bring to a gentle simmer, while stirring occasionally. Season the cream sauce with salt and pepper to your taste.
Then, add in the baby spinach and the grated parmesan cheese. Let the cream sauce simmer for another minute until the cheese melts through. 
Finally, add the grilled salmon filets back into the pan; sprinkle with the parsley, and spoon the sauce over each fillet. Serve the creamy Tuscan salmon with garlic over rice or pasta, or on its own. You're sure to get many oohs and aah from this dish.
Heavenly Strawberries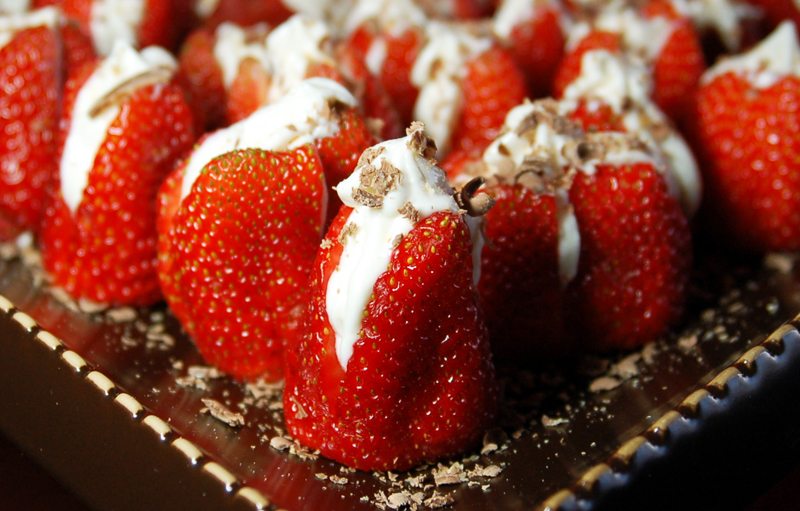 credits: ideas2live4.com
Because no meal is EVER complete without dessert. We picked the easiest, and possibly the yummiest dessert you can whip up in just a few minutes. It is heavenly, it is light, and it is sweet, what else could you ask for in a dessert?
All you need, literally:
2 dozen large strawberries [or more, who's counting?]

whipped cream

grated chocolate
Remove the stems from the strawberries, and cut a deep X into it. Fill the strawberries with whipped cream and grate some sumptuous dark chocolate on top to give it that extra finesse. That's it! 
Now, you're ready to serve the most delicious full-course dinner and impress your loved ones this Valentine's Day! If you happen to use our beautifully handmade knives for any of your cooking projects, don't forget to tag us on social media for a chance to be featured on our page.