5 super easy Christmas drink recipes
The season of parties is here, so people are getting their recipes for delicious drinks out and so are we. But we also know that people don't have much time to spend on recipes everything is moving fast this season. That is why we have selected our favourite easy Christmas drink recipes so we can quickly make and enjoy yummy cocktails at home. 

Christmas Citrus cocktail 
A delicious mix of vodka, St. Germain (elderflower liquor), and fresh-squeezed winter citrus juice is all you'll need to be energized for the rest of the evening. This drink is so simple, refreshing, cheerful, and beyond good for your energy levels. Serve this festive cocktail pitcher style for friends and family this Christmas.
Ingredients
2 ounces vodka 

1/2 ounce St. Germain (elderflower liquor) 

1/3 cup fresh-squeezed clementine or blood orange juice

ginger beer, for topping 

pomegranate arils, for topping 

1 sprig fresh thyme or mint
Instructions
Fill a cocktail glass with ice. Add the vodka, elderflower liquor (if using), and clementine juice. Top with ginger beer. Add the pomegranates and thyme or mint. And voila! All you've got to do is to enjoy this easy drink with your beloved ones. 
 Manhattan Christmas edition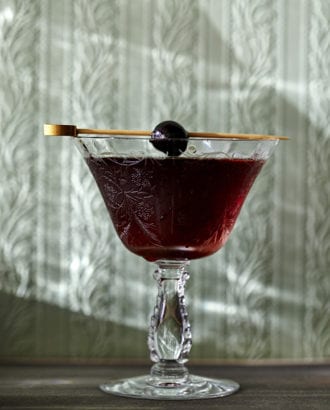 If you and your family are a fan of the classic Manhattan cocktail you will love this new Christmas version of the famous drink. It really is the darks and moody sister to your classic Manhattan, except in a holiday sweater. The baking spices from the allspice liqueur provide a warm finish to the drink, which is a bit spicy from the rye at the start.
Ingredients
8 ounces Rye 

4 ounces Averna 

2 ounces Allspice Liqueur

4 dashes Angostura bitters, or other aromatic bitters 

4 dashes orange bitters 

2 ounces water brandied cherry garnish (optional)
Instructions
Combine all the ingredients in a large, spouted mixing glass that can accommodate at least 16 ounces, stir to combine, and then funnel into a swing-top bottle. Store refrigerated until ready to serve. For one cocktail, portion out ~3.25 ounces into a cocktail coupe. Decorate it as you wish. 
Snow cocktail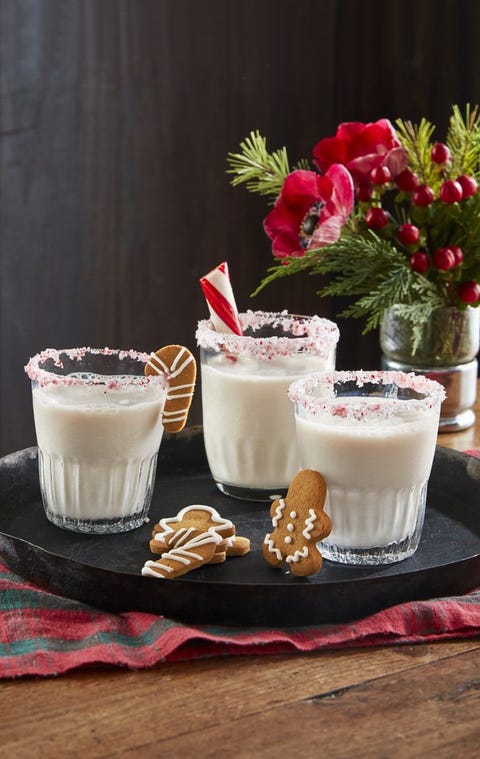 This rum-based refreshment will keep you cosy, hydrated, and happy during all your adventures this season.
Ingredients
Finely-crushed candy canes 

1 1/2 oz. white chocolate liqueur 

1 oz. blackstrap rum 

1/2 oz. ginger liqueur 

Ice & Water 
Instructions
Dip the rim of a glass in water, then in finely crushed candy canes. Then combine white chocolate liqueur, blackstrap rum, ginger liqueur, and ice in a cocktail shaker. Shake vigorously, then strain into prepared glass. Serve garnished with a bite-size gingerbread cookie, if desired.
Mulled wine
Probably the easiest and yummiest drink for this time of the season mulled wine will fill the room by the delicious aroma of cinnamon mixed with citruses and wine. Plus; it's a warm drink. What more can you ask from a Christmas drink? 
Ingredients
1 (750-ml.) bottle red wine 

1 orange, sliced into rounds, plus more for garnish 

6 whole cloves 

3 cinnamon sticks, plus more for garnish 

3 star anise 

1/4 c. honey 

1/2 c. brandy
Instructions
In a medium saucepan over medium heat, combine all ingredients. Bring to a simmer, not a boil, then reduce heat to medium-low. Simmer gently over low heat for 10 minutes. Serve warm and garnish with more citrus slices and cinnamon sticks.
Christmas eggnog 
We couldn't make a Christmas drinks list without mentioning the good old eggnog. And this one is as easy as making eggnog can get. If you have a blender, it will all take just 5 minutes. 
Ingredients 
4 large eggs the freshest you can find 

3/4 cup granulated sugar (or superfine sugar) 

1/2 tsp dried nutmeg

1/4 tsp ground cinnamon 

3 oz cognac (about 1/3 cup + 1 Tbsp) 

3 oz bourbon (about 1/3 cup + 1 Tbsp) 

1 1/2 cups whole milk 

1 cup heavy cream
Instructions 
Add whole eggs to blender and blend on MED speed (or LOW if you only have a HIGH and LOW setting option) for 30 seconds. Add sugar and blend another 20 seconds. Add nutmeg, cinnamon, cognac, bourbon, milk and heavy cream and blend until combined, about 10-15 seconds. Transfer to an airtight container and refrigerate for a day or so to allow flavours to combine and mellow.