5 Healthy Easter Desert recipes
Spring is in its full bloom, Easter is around the corner and since we are at home anyways, we might as well make it a big family celebration. Now, when it comes to cooking your traditional Easter recipes, we suggest you change things up a little bit and make them healthier. That is why we have selected 5 scrumptious Easter dessert recipes that are healthy and good for your immune system. 
Chocolate Covered Strawberries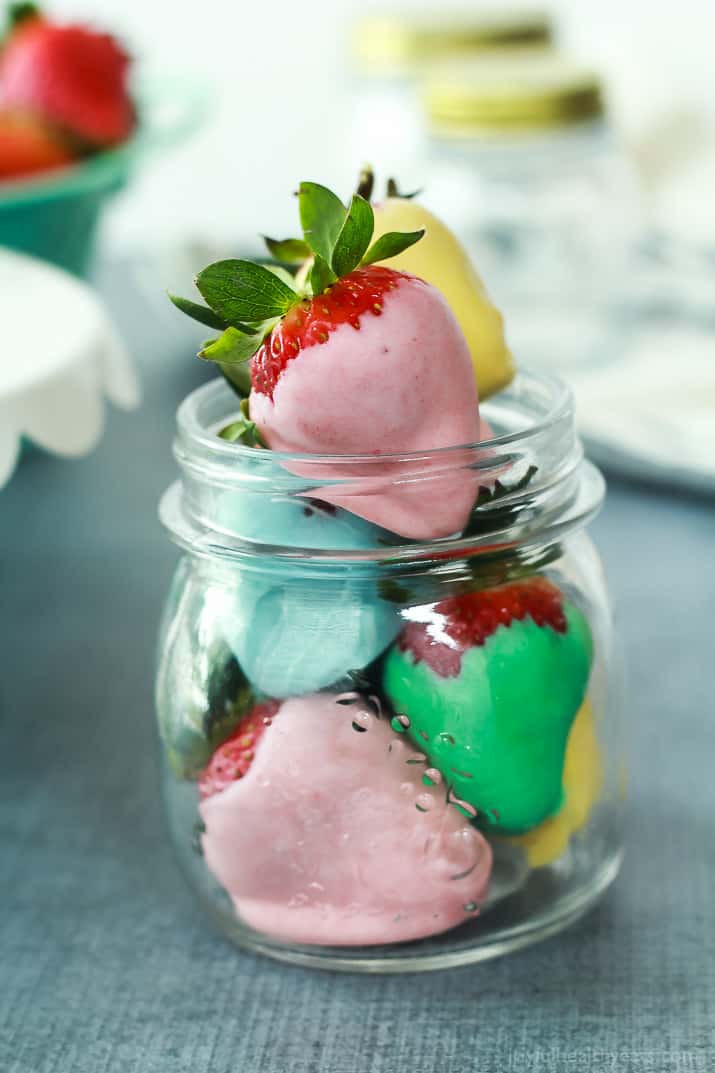 As much as we love easter sweets, we need to remember about our health and incorporate a little bit of fruitiness to the treats. These chocolate-covered strawberries a perfect delight when it comes to healthy desserts. Plus, they are extremely easy to make, what more can we ask?
Ingredients 
1 pint of fresh strawberries, washed and patted dry 

1 lb. of white melting chocolate 

food coloring 
Instructions 
Cover baking sheet with parchment paper.

Place melting chocolate in the microwave for 1 minute. Stir and place back in the microwave for 30 seconds at a time until chocolate is smooth. 

Separate melted chocolate into 4 bowls. Add food coloring to each bowl in the colors you would like. (I did pastel yellow, pastel green, pastel blue, and pastel pink) 

Dunk the strawberries in the desired chocolate color and place on a lined baking sheet to harden. 

Place in refrigerator for 1-2 hours and serve!
Bunny Head Fruit Platter
Yes, an easter Deseret made entirely from fresh fruits. This is as healthy as it gets with deserts. Not mention how easy it is to make and how festive it will look on your festive Easter table. Also, you can definitely make other shapes like an egg for example. The most important things are staying healthy and having fun.
Ingredients 
1 pineapple

1 pear

3 kiwi

18oz blueberries

6 oz raspberries

10 oz strawberries
Instructions 
Start by taking the pineapple pieces and cup two circles together for the bunny's cheeks.  Then place two pear arches above the cheeks for the "whites of the eyes".

Place the kiwi in the shapes of bunny ears and place sliced strawberries for the "pink" inner ear.

Fill in the rest of the head with pineapple and outline the ears with more pineapple.  Place blueberries for the large eyeballs.

Place a large raspberry for the nose.  Place two large pieces of pear for the teeth.  Fill in the background with remaining fruit.

The more contrast between fruit colors, the more the bunny head will pop from the fruit platter.  String cheese seems to work the best to create the bunny's whiskers. You could also slice a banana lengthwise to keep it all fruit.
Flourless Almond and Lemon Cake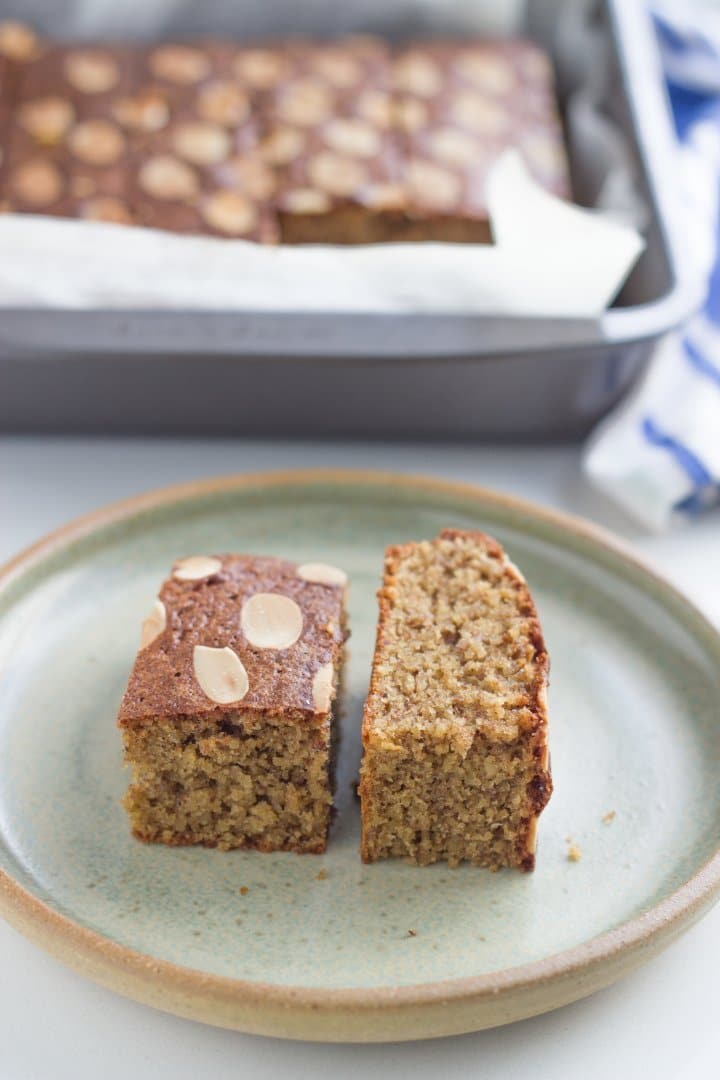 Source - becomingness
Easter isn't complete without a cake. And, yes, it's not easy to make a healthy cake but it's possible with the right recipe. Here we have a delicious Almond and Lemon cake which is gluten, dairy and refined sugar-free. It is extremely easy to make and will not take much time. That's just phenomenal for a whole cake. 
Ingredients
4 eggs

2 tablespoons lemon zest

1/2 cup coconut sugar

1 teaspoon vanilla extract

2 cups almond meal

1 teaspoon baking powder

1/2 teaspoon cardamon

Flaked almonds for decorating
Instructions
Preheat the oven to 175 C | 350 F.

Whisk together the eggs, lemon zest, coconut sugar and vanilla extract in a medium to large-sized bowl. Next, whisk together the almond meal, baking powder and cardamom in a large bowl. Then add the wet mixture to the dry mixture, stirring until combined.

Pour the mixture into a greased and lined square baking pan and decorate with the flaked almonds. Place into the oven for 35 minutes to cook or until an inserted skewer withdraws clean.

Allow to cool slightly in the baking pan before slicing. Serve warm or cold.
Raw Fruit Tart
No one can resist a tart especially if its made with fresh seasonal fruits. Keep your immune system strong with this healthy dessert recipe.
Ingredients
6 medjool dates, pitted

1/2 cup raw macadamias

1/2 cup organic desiccated coconut

1 x 270ml can coconut cream, placed in refrigerator overnight or for a minimum 6 hours

1 teaspoon vanilla extract

1 tablespoon pure maple syrup

2 kiwi fruits, peeled and sliced

4 strawberries, washed and sliced

1/3 cup blueberries, washed

Optional – pulp from 1 passionfruit
Instructions
To make the base, process the medjool dates, macadamias and desiccated coconut in a food processor or high-speed blender until it resembles fine crumbs and sticks together when pressed. Spoon the mixture into 2 small tart pans (12cm) that are lined with cling wrap and press down to form the base. Place it in the freezer and freeze overnight.

To make the coconut whipped cream, remove the cream from the can and add to blender with vanilla extract and maple syrup. Blend on high speed until the cream thickens. Alternatively, you can use a mixer or hand beater. Refrigerate until needed.

When ready to serve, remove the base from the pans and add the coconut cream and top with the fruit.
Strawberry-Rosemary Yogurt Pops
This one is for those lucky people who live in a warmer climate. These refreshing yoghurt pops might be the perfect end of the meal in the garden while children are running around playing Easter egg hunt, you sit back and enjoy the weather. 
Ingredients
1 cup chopped fresh strawberries

2 tablespoons balsamic vinegar

2 tablespoons strawberry preserves

2 fresh rosemary sprigs

1-1/2 cups vanilla yoghurt

6 freezer pop moulds or paper cups (3 ounces each) and wooden pop or lollipop sticks
Instructions 
In a small bowl, mix strawberries, vinegar, preserves and rosemary. Let stand 30 minutes; discard rosemary.

Spoon 2 tablespoons yoghurt and 1 tablespoon strawberry mixture into each mould or paper cup. Repeat layers. Top moulds with holders. If using cups, top with foil and insert sticks through the foil. Freeze until firm.
Here we have some of our greatest products that you can use to make your healthy deserts!