5 Glaze Ideas for Your Easter Ham
Only a few days left until families gather around the tables and have a lovely time eating their long-awaited Easter dinners. It is a dinner with traditional dishes that can't be missed that day. Glazed Ham is one of the main dishes of Easter that will never be absent from the table. But years of making it with the same glaze can get a little repetitive. That is why we have listed some delicious glaze ideas for you to get inspired by or try one of them out. This is the perfect time to experiment with our cooking since we have a lot of time at home on our hands. So without furder ado, here are our 5 Glaze ideas for your Easter Ham. 
Cola and Brown Sugar Glazed Ham
We're starting out with a bit of an odd combination but trust us it is extremely delicious. The caramelized sugars in the cola make an irresistible sweet glaze for your holiday ham. Be sure to get a ham big enough for leftovers—it is nearly as good sliced up for sandwiches or fried with eggs as it is when presented in its full glory just out of the oven.
Ingredients
11-12 pound shank half bone-in cooked ham

4 cups cola

2 cups orange juice

1/2 cup dark brown sugar

1/4 cup Dijon mustard
Instructions 
Preheat the oven to 350F.

Trim any skin and excess fat on the ham. With a sharp knife, score the ham all over in a diamond pattern. Place the ham in a large Anolon Advanced Bronze nonstick roasting pan then pour 1 cup of the cola and 1 cup of the orange juice over it. Cover the pan with aluminium foil and roast 1 hour 15 minutes.

Meanwhile, combine the remaining 3 cups cola, 1 cup orange juice, sugar and mustard in a medium saucepan. Bring the mixture to a boil over medium-high heat and cook until reduced to 1 cup and mixture is slightly syrupy, about 45-48 minutes.

After the ham has roasted 1 hour 15 minutes remove the foil and baste with some of the cola glaze. Continue roasting and basting ham every 15 minutes with the glaze until it is glossy and an instant-read thermometer inserted into the thickest portion registers 145F, about 1 hour 15 minutes -1 hour 30 minutes longer. Remove from the oven and let rest 15-20 minutes before slicing.
Cranberry Glazed Ham
Source - tastesoflizzyt
Sweet glazes go so perfectly with salty ham. This easy glaze recipe uses tart whole cranberry sauce which is sweetened up a bit with orange juice concentrate and brown sugar. You'll cook this in a saucepan along with allspice and cinnamon. Impress your family with this cranberry glazed ham.
Ingredients
14 ounces whole cranberry sauce (1 can)

⅔ cup brown sugar

¼ cup orange juice concentrate

½ teaspoon allspice

½ teaspoon cinnamon

½ teaspoon cayenne pepper or a dash of red pepper flakes (optional)

10 pound fully cooked spiral-sliced ham (weight is approximate)
Instructions
Place the cranberry sauce, sugar, orange juice, and spices in a small saucepan. 

Cook and stir over low heat on the stove until the sugar is dissolved.

Preheat oven to 350º Fahrenheit.

Place a pre-cooked, spiral sliced ham in a baking pan or casserole dish.

Spoon about ½ cup cranberry glaze over the ham.

Cover tightly with foil and bake for 1 hour.

Glaze the ham with another ½ cup of sauce.

Cover and cook for 30 minutes.

Glaze again and continue baking them ham until the internal temperature of the ham reaches 140 degrees Fahrenheit. This will take about 10-15 minutes per pound of fully cooked ham. Plan for about 90-120 minutes of cooking for a ham.

Serve any leftover cranberry glaze overtop ham slices.
Apple Cider Maple Glazed Ham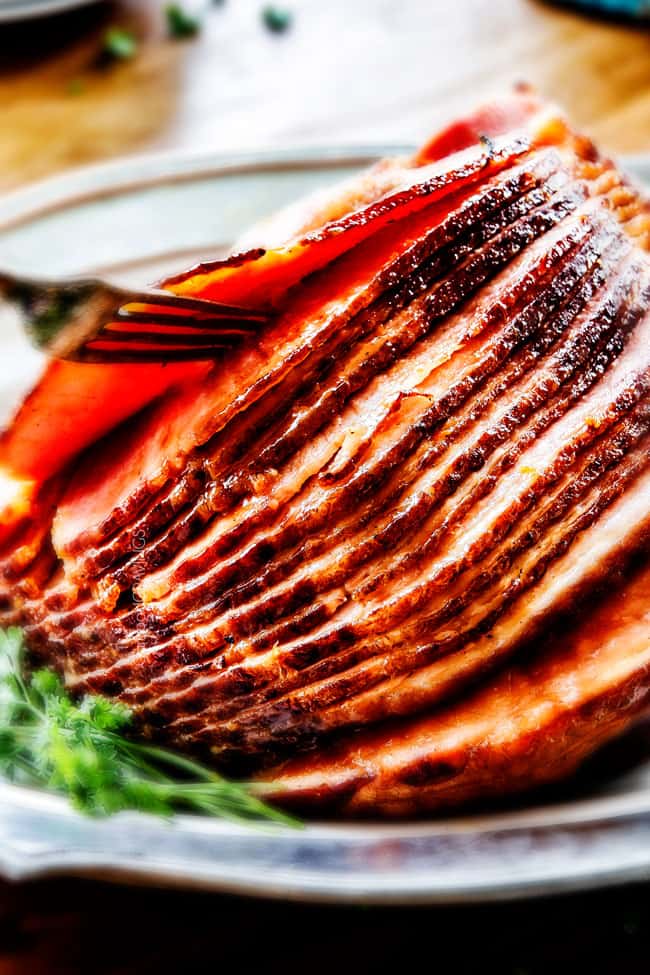 This baked ham recipe only takes minutes of hands-on prep and feeds a crowd making it the most hassle-free main dish for Easter. 
Ingredients
1 bone-in smoked spiral-sliced ham (8-11 pounds)

Aluminium foil

2 tablespoons unsalted butter, cubed
Apple Cider Glaze
1 1/2 cups apple cider

1/2 cup pure maple syrup NOT imitation

1/2 cup packed light brown sugar

3 tablespoons apple cider vinegar

3 tablespoons Dijon mustard

2 tablespoons yellow mustard

2 teaspoons cornstarch

1/2 teaspoon ground cinnamon

1/4 tsp EACH ground nutmeg, ground cloves, dried thyme, pepper, chilli powder
Instructions 
Remove ham from refrigerator and let sit at room temperature 2-3 hours.

Whisk together all of the Apple Cider Maple Glaze ingredients in a medium saucepan. Bring to a boil. Reduce to a simmer over medium heat, stirring often, until thickened and reduced, approximately 15-20 minutes. Stir in butter until melted. The glaze will thicken more as it stands.

Preheat oven to 325 degrees F. Adjust oven rack to the lowest position. Pour 2 cups water into the bottom of roasting pan IF you have a roasting rack. Place a roasting rack inside the pan. (Skip the step if you don't have a roasting rack.)

Roll out 2 large pieces of foil to wrap your ham in. Place ham on foil and brush all over with some of the Glaze, including in between slices. Tightly wrap ham with foil and place on its side on the roasting rack (or bottom of the pan). Bake ham until the centre registers 100-110 degrees F, about 2 hours (about 12 minutes per pound).

Remove ham from oven and increase oven temperature to 400 degrees F.

Carefully unfold foil to expose ham and brush ham all over with Glaze (if Glaze has become to thick to brush, return to heat to loosen). Leave ham exposed and bake for 20-30 minutes or until edges are golden brown and caramelized.

Remove ham from oven and brush again all over with Glaze. Spoon juices from the bottom of the pan all over the ham. Loosely cover with foil. Let rest for 15 minutes then spoon more juices over ham and serve with any remaining Glaze.
Orange Marmalade Ginger Ham Glaze
This ham glaze recipe is very easy to make which makes it perfect for beginner cooks. The smell, the taste, this glaze is beyond delicious and your family will be in awe. 
Ingredients
1 cup orange marmalade

2 tablespoons orange juice

1 tablespoon grated ginger root

2 tablespoons Dijon mustard
Instructions
Preheat your oven to 325 degrees.

Combine all ingredients for the glaze; mix well.

Place your ham on a baking rack, add a little water to the bottom and cover the entire pan with tin foil.

Follow package instructions for cooking your ham. Your cooking time will vary based on the cut and type of ham.

Brush glaze on your ham during the last 20 minutes of baking. Return your ham to the oven and continue baking, this time with no tin foil.

When the ham is done (internal temperature information is in the notes), remove from oven, cover, and allow to rest for 15-20 minutes before carving.
Ginger beer and tangerine glazed ham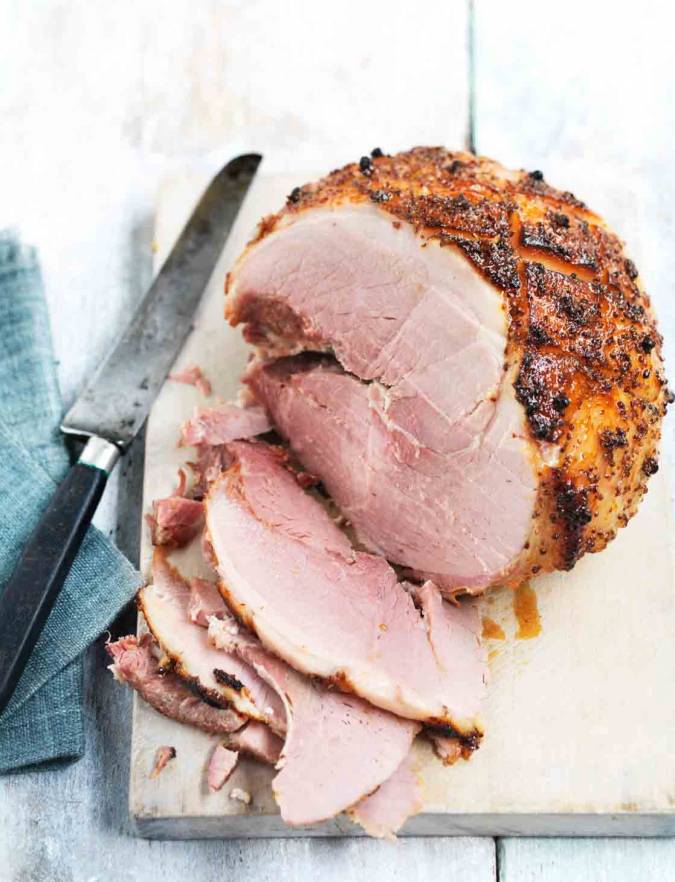 This one is for the beer lovers. It's a glaze with a unique flavour that only specific people will like but the ones who do they adore it. 
Ingredients
2kg boneless gammon joint

1 onion, halved

zest of 4 tangerines, removed with a vegetable peeler

4-star anise

2 litres ginger beer
For the glaze
a handful of cloves

4 tbsp clear honey

2 tbsp wholegrain mustard
Instructions 
Cook the ham to the end of step 2 the day before; chill. Bring to room temperature before glazing. The glazed ham will keep for several days

Put the gammon, onion, tangerine zest and star anise in a large pan. Pour over up to 1.9 litres of the ginger beer so the gammon is just covered with liquid, top up with water if necessary. Reserve 100ml of the ginger beer for the glaze. Bring to the boil, skim the surface to remove any scum and reduce the heat to a simmer. Cover and cook gently for 2 hours. Leave to cool in the cooking liquor. Preheat the oven to 220°C, fan 200°C, gas 7.

Remove the ham from the pan, setting aside the cooking liquor (freeze the liquor to use as stock if it's not too salty).

Carefully cut the skin off the ham and discard, making sure to leave a layer of fat. Lightly score the fat into diamond shapes and stud a clove into the middle of each diamond. Line a roasting tin with foil and place the ham in the tin.

To make the glaze, warm the honey, mustard and reserved ginger beer in a pan and boil until thickened. Spoon over the scored fat and bake for 20-25 minutes or until the glaze has caramelised. Serve hot or leave to cool completely before slicing.