5 Easy Mothers Day dinner ideas
If you are planning to take the Mother's Day dinner cooking on yourself, then this is just for you. We have selected 5 delicious and very easy dinner recipes. No matter if you're good at cooking or not, these are quite easy recipes and even if you end up needing some help it will be a fun time anyway. 
Spring Pea Carbonara
Source - hearstapps
Your mom has definitely made this many times before so just take a note from her and turn frozen veggies into a standout pasta dish that includes peas and bacon.
Ingredients
1 batch Classic Pasta Dough

Kosher salt

pepper

6 oz. pancetta or slab bacon, cut into cubes

2 tbsp. olive oil

1 clove garlic, finely chopped

1/2 c. fresh bread crumbs

1/2 c. flat-leaf parsley, finely chopped

1 c. peas, thawed if frozen

4 large eggs

freshly grated Parmesan, plus more for serving

 
Instructions 
Prepare pasta dough and long noodles using tagliatelle attachment as directed.

Bring a large pot of water to a boil; add 1tablespoon salt.

Meanwhile, cook pancetta in 1 tablespoon oil in a large skillet until crisp, 8 to 10 minutes. Using a slotted spoon, transfer to a paper-towel-lined plate. Wipeout skillet. Heat remaining tablespoon oil on medium. Add garlic and bread crumbs, toss to coat in oil, then cook until golden brown and crisp, 3 to 4 minutes. Transfer to a bowl and toss with parsley.

Once the pancetta is cooked, cook pasta to al dente, 3 to 4 minutes, adding peas during last minute of cooking; reserve 1 cup pasta cooking water, drain pasta and return to pot.

In a medium bowl, whisk eggs and Parmesan. Toss into cooked pasta to coat, adding reserved liquid 1 tablespoon at a time to make a creamy sauce. Fold in pancetta and 1/2 teaspoon pepper. Serve with Parmesan and garlic crumbs.
Lemon-Ricotta Ravioli with Creamy Herbed Mushrooms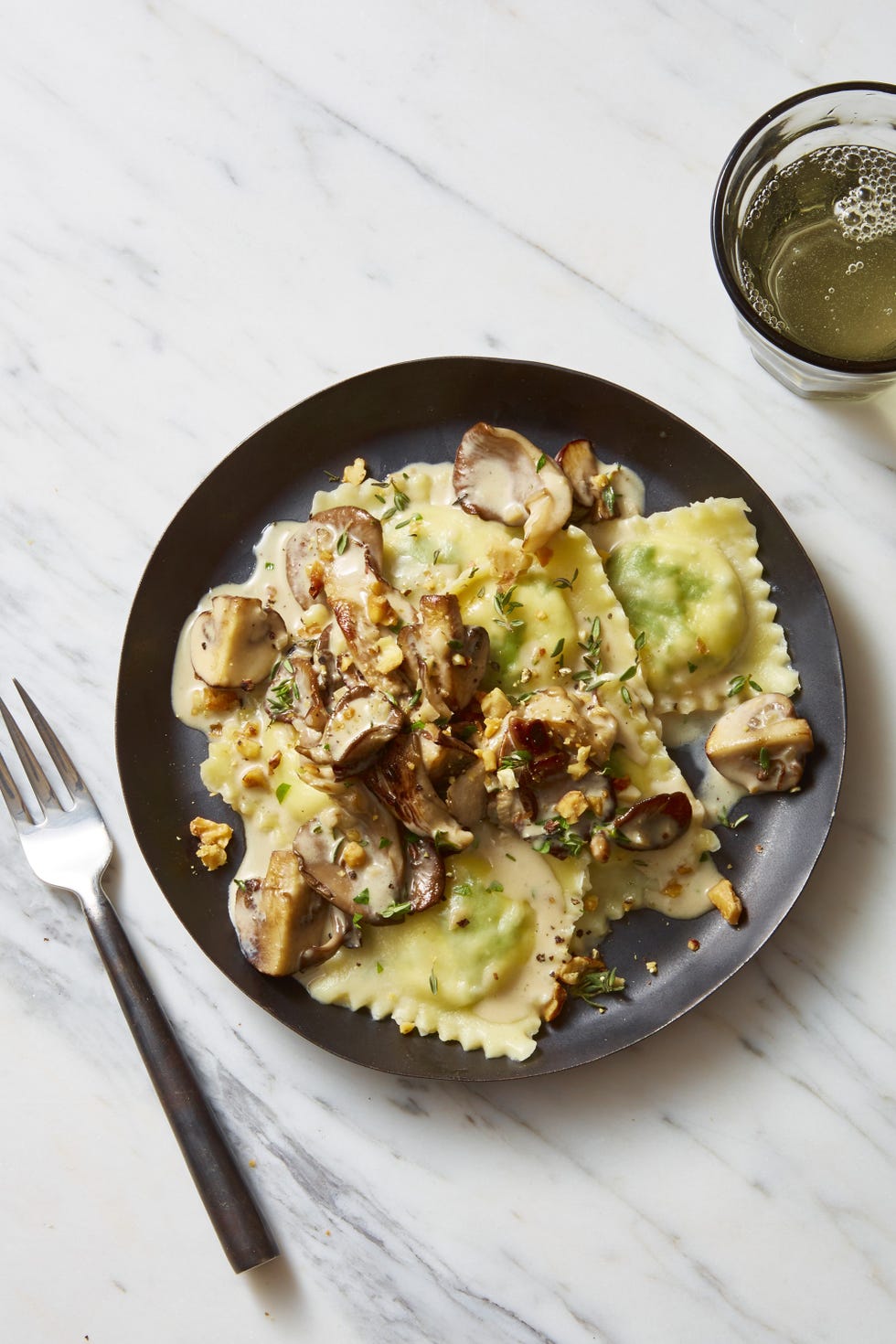 Source - hearstapps
People often underestimate homemade ravioli but your mom or your wife will appreciate this dish more than anyone. Plus, you will learn to make something new. Once you make your own ravioli from scratch, you'll never look at the frozen stuff the same way again.
Ingredients
Ravioli

1 lb. fresh ricotta

1/2 c. freshly grated Parmesan

2 tsp. finely grated lemon zest

1/2 c. flat-leaf parsley, chopped

2 tbsp. Chopped chives

Kosher salt

pepper

1 batch Classic Pasta Dough

48 whole flat-leaf parsley leaves, all stems and hard bits removed

Mushrooms

2 tbsp. olive oil

12 oz. mixed mushrooms (we used oyster, shiitake, cremini), torn or quartered

2 cloves garlic, finely chopped

2 tsp. fresh thyme leaves

1 tbsp. Dijon mustard

1/4 c. dry white wine

1/2 c. crème fraîche or sour cream

1/4 c. toasted walnuts, chopped

Chopped flat-leaf parsley, for serving
Instructions 
In a medium bowl, combine ricotta, Parmesan, lemon zest, chopped parsley, chives and 1/4 teaspoon each salt and pepper. Set filling aside.

Prepare pasta dough. Lightly flour a large baking sheet. Working with 1 piece of dough at a time, roll into pasta sheet as directed (leave remaining portions covered while making each batch of ravioli).

Transfer pasta sheet to lightly floured work surface and the top half of sheet with 12 whole parsley leaves, moistening slightly if necessary to make them adhere. Fold over the second half of the sheet, gently pressing to adhere. Pass sheet through second- thinnest setting on the pasta machine. Place one end of rolled pasta over ravioli form, leaving half of the sheet draping to offend. Gently press the dough down into the mold.

Spoon in filling, about 2 teaspoons in each mold. Use a pastry brush and water to gently brush around each ravioli. Fold over the other half of the sheet to cover filling and gently press to seal. Run rolling pin firmly over top of ravioli mold to create ravioli shapes; carefully break into pieces. Transfer to the prepared baking sheet. Repeat with remaining dough and filling.

Bring a large pot of water to a boil; add 1 tablespoon salt. Cook ravioli to al dente, 6 to 8 minutes. Reserve 1/2 cup pasta cooking water, then drain.

While water is coming to a boil, make the sauce: Heat large skillet on medium-high. Add oil, mushrooms and 1/4 teaspoon salt and cook, tossing occasionally, until softened and starting to brown, 6 to 8 minutes. Add garlic and thyme and cook 1 minute.

Stir in mustard, then add wine and cook, stirring, 30 seconds. Remove from heat, stir in crème fraîche and season with pinch salt and 1/2 teaspoon pepper; thin with pasta cooking water if necessary. Spoon over ravioli and top with walnuts and parsley if desired.
Tex-Mex Pizzettas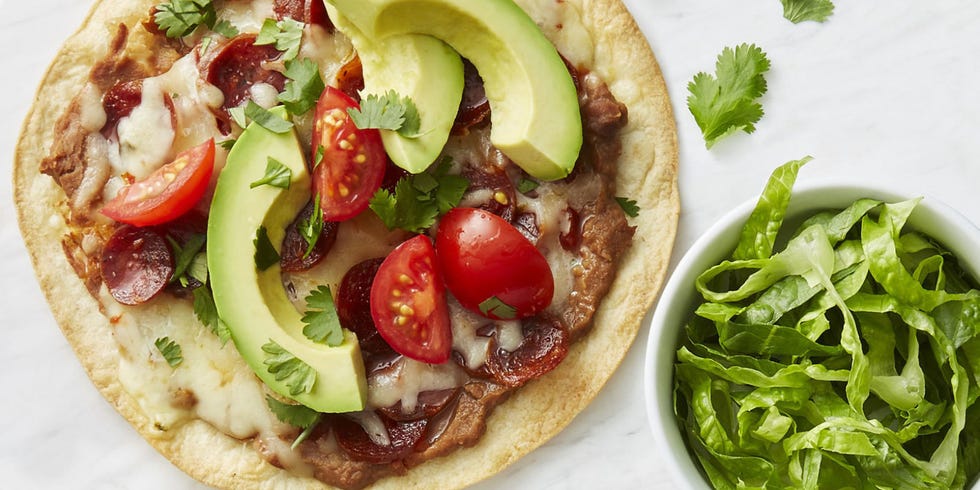 Source - hearstapps
This is an obvious one. Who doesn't love a crispy pizzetta indulged with a glass of red? It is also one of the easiest recipes to make so it's a win-win situation for everyone. 
Ingredients
4 large tortillas

1 15-ounce can refried beans

1/4 c. prepared salsa

1 oz. thinly sliced chorizo

4 oz. Pepper Jack cheese

Lime wedges

Avocado, lettuce, and tomatoes, for topping
Instructions
Place 2 rimmed baking sheets in oven and heat to 425°F. Lightly brush tortillas with canola oil. Place on hot baking sheets and bake until crisp, 4 minutes per side.

While the tortillas are baking, coarsely grate the pepper jack cheese.

Spread the refried beans on the tortillas, then spread with the salsa. Divide the chorizo and the pepper jack cheese among the tortillas. Bake until the cheese melts, about 5 minutes.

While the tortillas are baking, slice the avocado and lettuce, and chop the tomatoes, if desired, and use to top the tortillas. Squeeze fresh lime juice over the top.
BBQ Chicken & Cheddar Burgers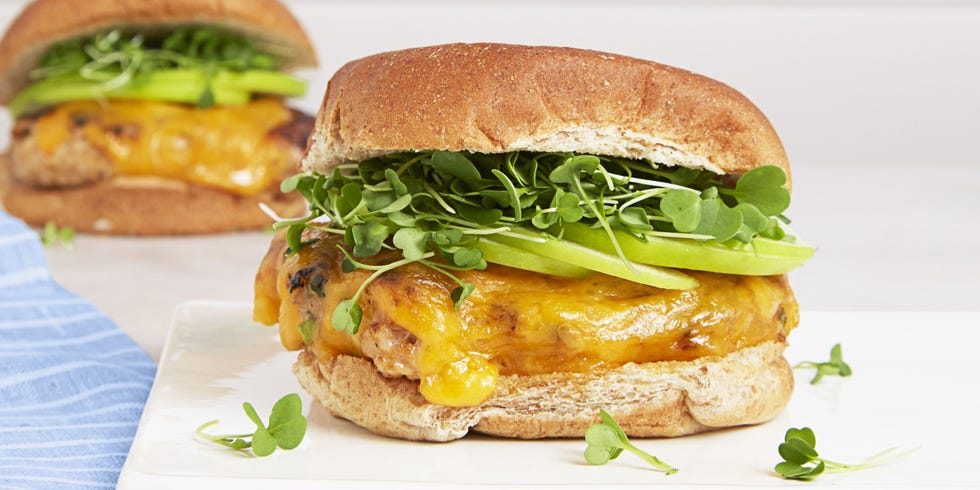 Source - hearstapps
Sometimes you just got to give in and treat yourself with a big chicken burger. But in this case, we are treating our moms and wives. But either way, burgers are a treat for everyone. 
Ingredients
1 1/4 lb. ground chicken

1/3 c. barbecue sauce

3 green onions, chopped

1/4 tsp. salt

1/4 tsp. pepper

2 tsp. canola oil

4 slices sharp Cheddar cheese

4 whole-wheat buns

Thinly sliced green apple

Microgreens
Instructions
Combine ground chicken, barbecue sauce, green onions, salt, and pepper. Form into four 1-inch-thick patties.

In 12-inch nonstick skillet, heat canola oil on medium; add patties. Cook 7 minutes per side or until cooked through (165°F).

Top each patty with 1 slice sharp Cheddar cheese; remove from heat and cover skillet to melt cheese. Serve on whole-wheat buns topped with green apple and microgreens.
Healthy 'Fried' Rice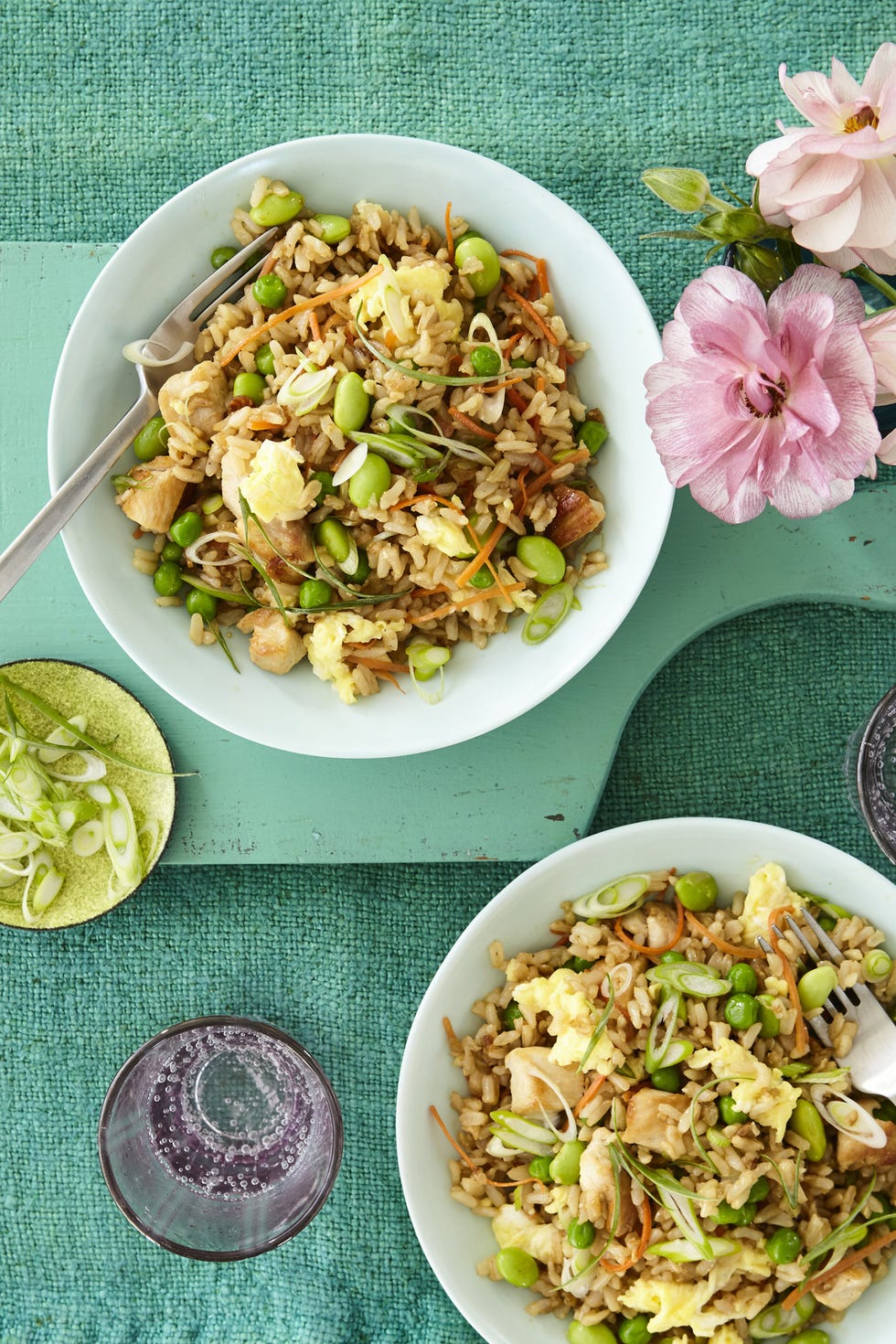 Source - hearstapps
 In times where our health has to be the biggest priority, This recipe is the right choice. Give your mom's immune system a little boost with a healthier option. 
Ingredients
1 tbsp. olive oil

1 lb. boneless, skinless chicken breast, cut into 3/4-inch chunks

2 cloves garlic, finely chopped

4 c. steamed brown rice, cold (or leftover brown rice)

2 large eggs, beaten

1/2 c. carrot, cut into thin matchsticks

1/2 c. frozen shelled edamame, thawed

1/2 c. frozen peas, thawed

3 scallions, finely chopped, plus more sliced for serving

2 tbsp. low-sodium soy sauce

1 tsp. toasted sesame oil

Sriracha, for serving
Instructions
Heat oil in a large skillet over medium-high. Add chicken and cook, turning occasionally, until golden brown, 3 to 4 minutes.

Add garlic and cook, stirring, 1 minute. Add rice and cook, stirring, until heated through, about 2 minutes. 

Pour eggs over top and gently stir to evenly coat and cook eggs and warm rice. Fold in carrot, edamame, and peas and cook until vegetables are just tender, 3 to 4 minutes. 

Stir in scallions, soy sauce, and sesame oil. Serve with additional scallions and sriracha if desired.

In conclusion: In case if you don't live with your mom and you obviously can't visit her on her special day because of the quarantine, you can still cook for her and leave the dish at her doorstep. She will appreciate it more than anything. And if you're living with your mom or with a mom, then give them the opportunity to rest on their day and make a lovely dinner for them.
Mother's Day is getting close and the only way we can shop for gifts is online. So we have a discount code for you if you want to shop for presents at Coolina. Use the code GET1FREE when buying 2 items and get the third for free!