4th Of July Desserts: Easy Patriotic Recipes
This year's 4th of July celebrations will be a bit different, but a few things will remain the same: We will get our trusty old 4th of July decorations out, we will have a nice BBQ afternoon in the garden, and we will bake and cook a lot of patriotic food. Speaking of patriotic food, we know that no 4th of July has been spent without a couple of delicious red, white, and blue desserts. So we have accumulated a list of new easy independence day dessert recipes that you can try this year. 
Rainbow Waffle Sandwiches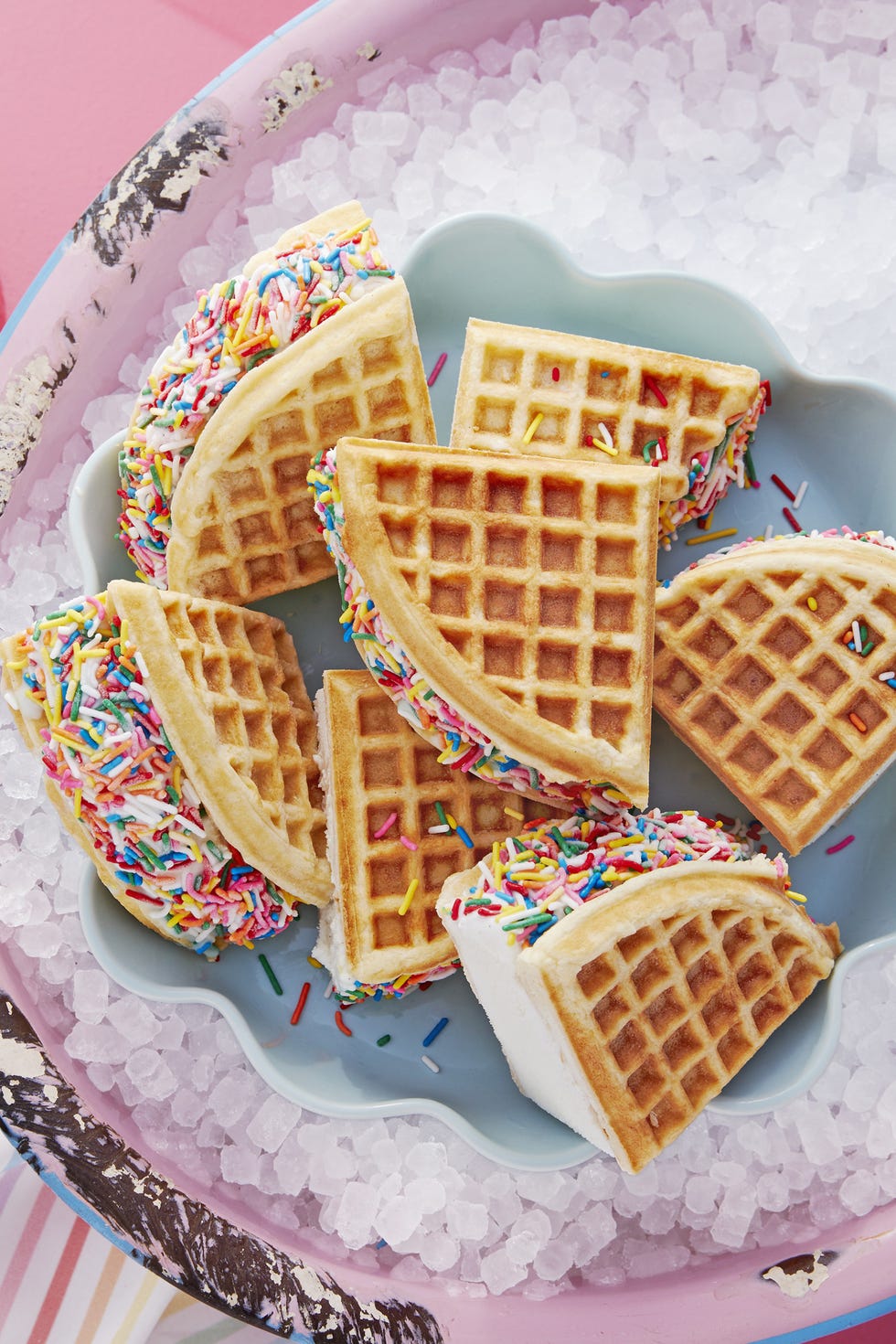 Source - hearstapps
Don't have a waffle maker? Not a problem at all, store-bought waffles can be as good as homemade ones. These colorful ice cream treats will be a hit at your 4th of July family only party. 
Ingredients 
2 c. all-purpose flour spooned and leveled

1 tbsp. sugar

1 tbsp. baking powder

1/2 tsp. baking soda

1/2 tsp. kosher salt

1 1/2 c. buttermilk

2 large eggs

4 tbsp. (1/2 stick) unsalted butter, melted

2 pt. vanilla ice cream softened

Multicolored sprinkles, for coating
Instructions 
Whisk together flour, sugar, baking powder, baking soda, and salt in a bowl. Whisk together buttermilk, eggs, and melted butter in a separate bowl. Add buttermilk mixture to flour mixture, and stir just until incorporated. 

Heat the round waffle iron (if you've got one). Spoon a heaping 1/2 cup of batter onto waffle iron and cook until light golden brown, 5 to 6 minutes. Transfer to a wire rack to cool.

Scoop ice cream onto half of the waffles, spreading evenly. Sandwich with remaining waffles, gently pushing ice cream out to the edges. Coat edges in sprinkles. Freeze until firm, 4 hours, and up to 2 days. Cut each waffle into 4 triangles just before serving.
Brown-Sugar Balsamic Strawberry Sauce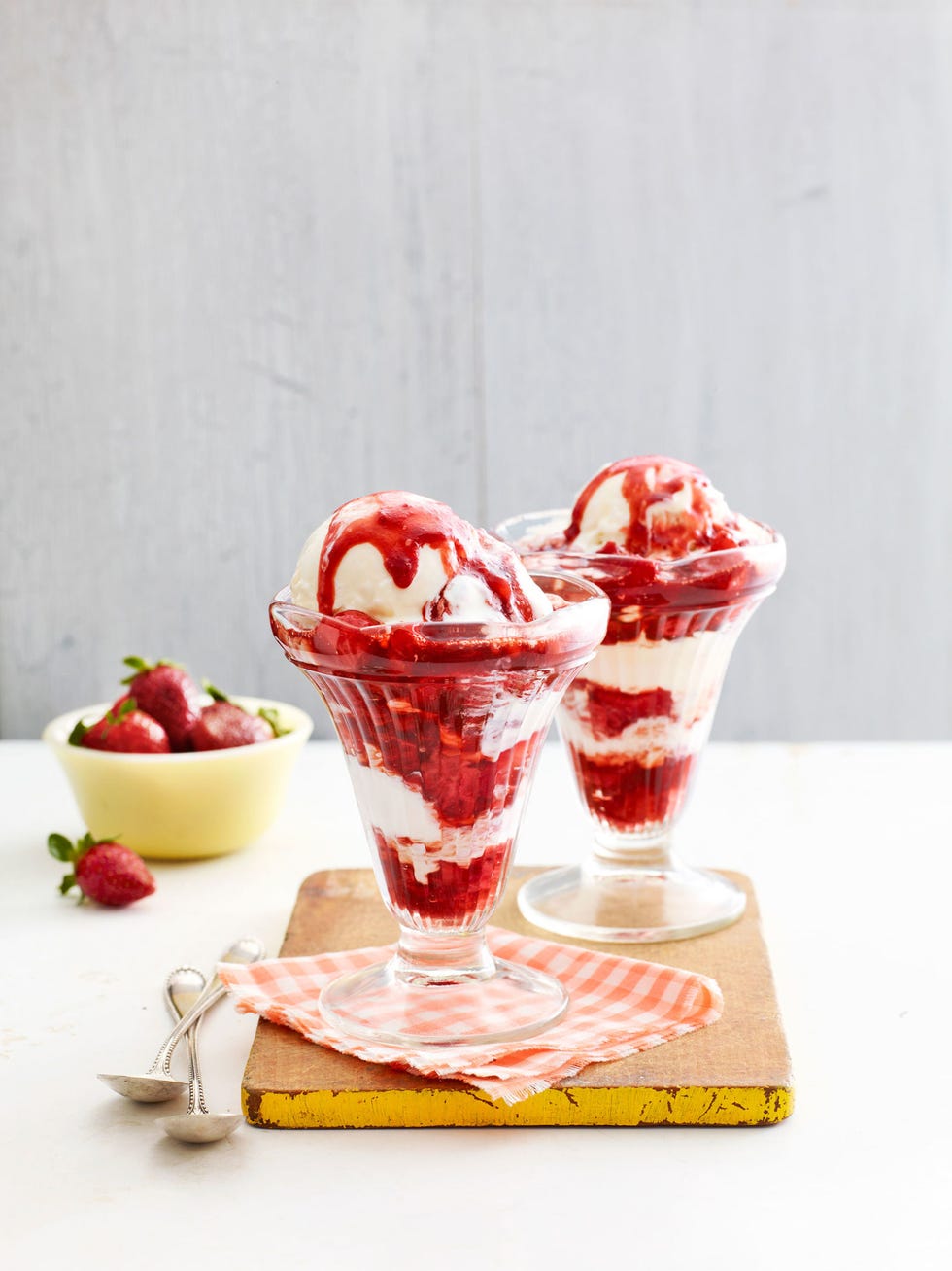 Source - hearstapps
The patriotic colors of this dessert make it perfect for the 4th of July festivities. All you have to do is make this quick-cooking strawberry sauce which gets a tangy pop from dark and rich balsamic vinegar. You can serve over your favorite ice cream along with a few slices of fresh blueberries. 
Ingredients
2 lb. strawberries

1 c. dark brown sugar

4 tbsp. balsamic glaze 
Instructions 
In a medium saucepan over high heat, bring strawberries and brown sugar to a boil.

Reduce heat to medium-low and simmer for 10 minutes. Remove pan from heat and, using a potato masher, mash berries until broken up but still chunky.

Let cool for 30 minutes, then stir in a balsamic glaze. Serve sauce over ice cream.
Patriotic Ice Pops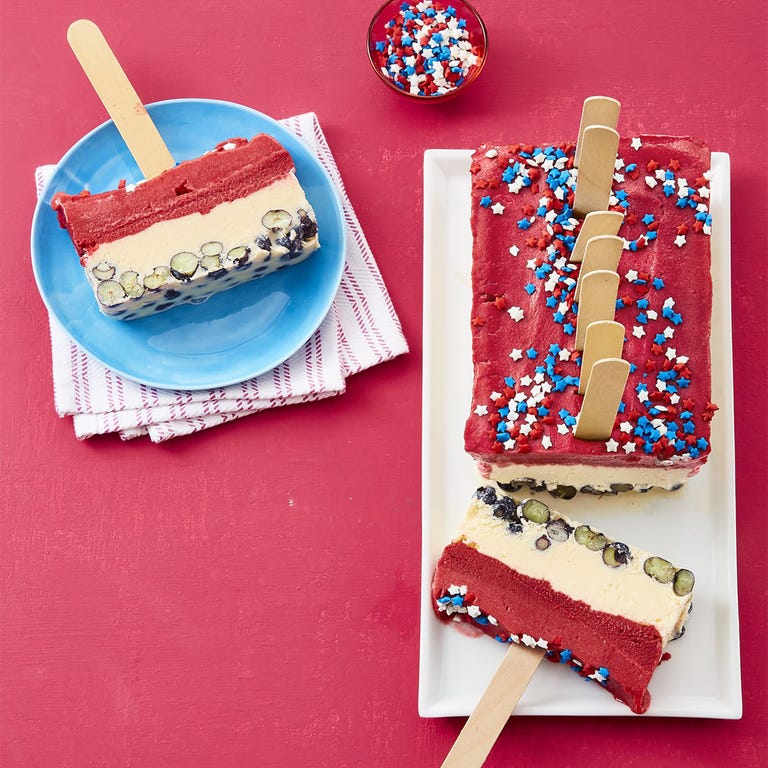 Source - hearstapps
Stars and stripes in red, white, and blue, these ice cream pops are all about that patriotic spirit. But these guys need eight hours in the freezer, so be sure to make them a day before festivities. 
Ingredients
1-pint blueberries

1-quart vanilla ice cream, slightly softened

2 pints red raspberry sorbet, slightly softened

Star sprinkles

10 large wooden craft sticks
Instructions 
Line a 10 x 5-in. loaf pan with parchment paper so the paper overhangs on all four sides. Scatter the blueberries evenly into the bottom of the pan.

Using an electric mixer, beat the ice cream in a large bowl until just smooth. Spread on top of the blueberries and place them in the freezer.

In a second large bowl, beat the sorbet until just smooth; spread on top of the ice cream layer. Top with sprinkles, if using. Push 10 craft sticks three-quarters of the way to the bottom, spacing them evenly down the center of the loaf pan; freeze until firm, at least 8 hours.

When ready to serve, use the parchment overhangs to remove from the pan. Peel away the parchment and cut between the craft sticks.
Firecracker Strawberries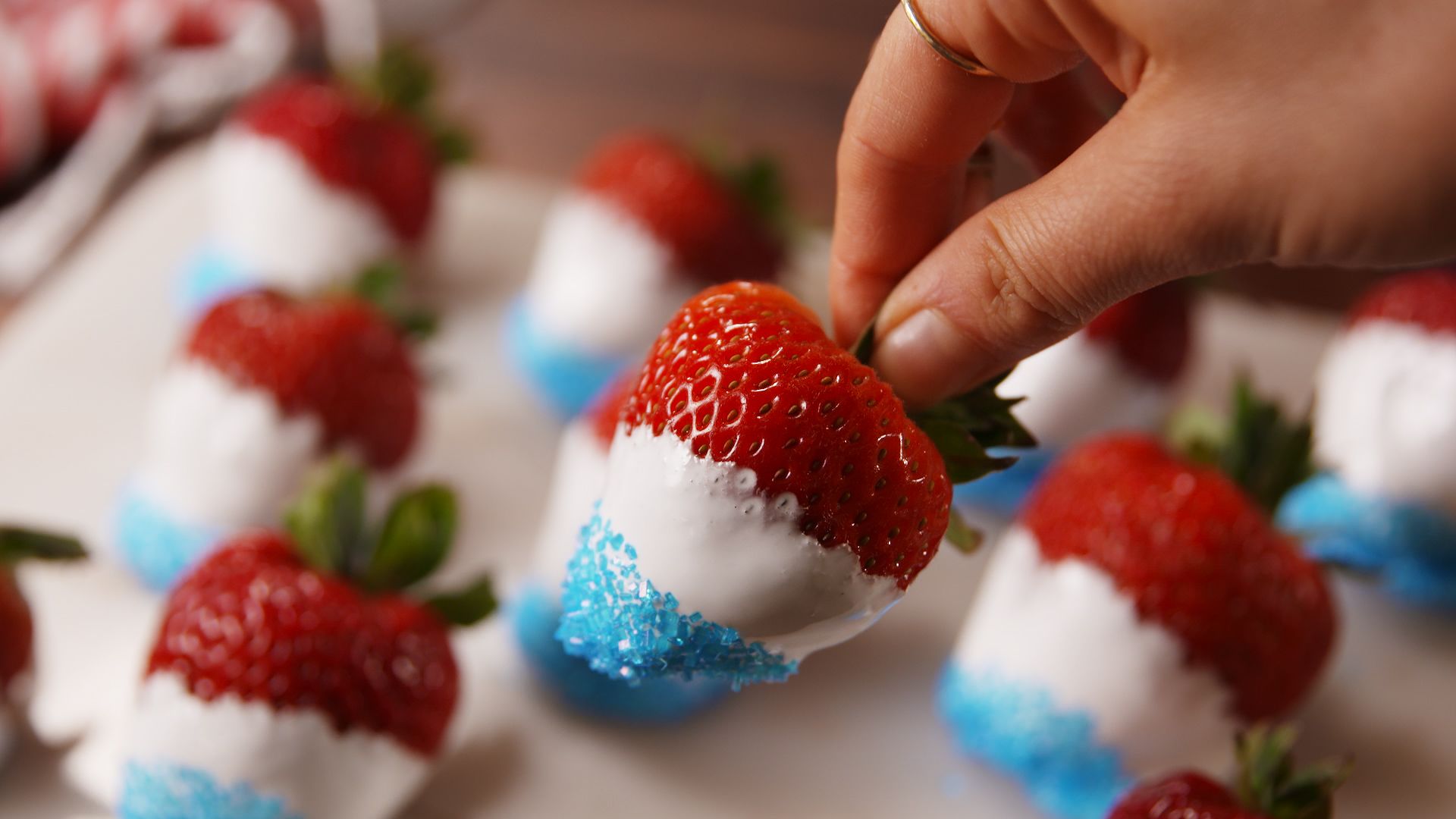 Source - hearstapps
These red, white, and blue strawberries are not for the children but the grown-ups will enjoy it with the effect of some subtle booze. These strawberries are first soaked in vodka, then dunked in marshmallow fluff and sprinkles for the most patriotic look ever.
Ingredients 
3 c. strawberries

4 c. vodka

1 1/2 c. marshmallow crème

1 c. blue pop rocks
Instructions 
Place strawberries in a large bowl and pour over vodka until the berries are fully submerged.

Place in the refrigerator and let soak for at least 1 hour. Drain strawberries, reserving vodka for future use.

Pat berries dry with a paper towel. Microwave marshmallow crème for 10 seconds. Dip berries first in fluff, then into Pop Rocks. Serve.
American Flag Donuts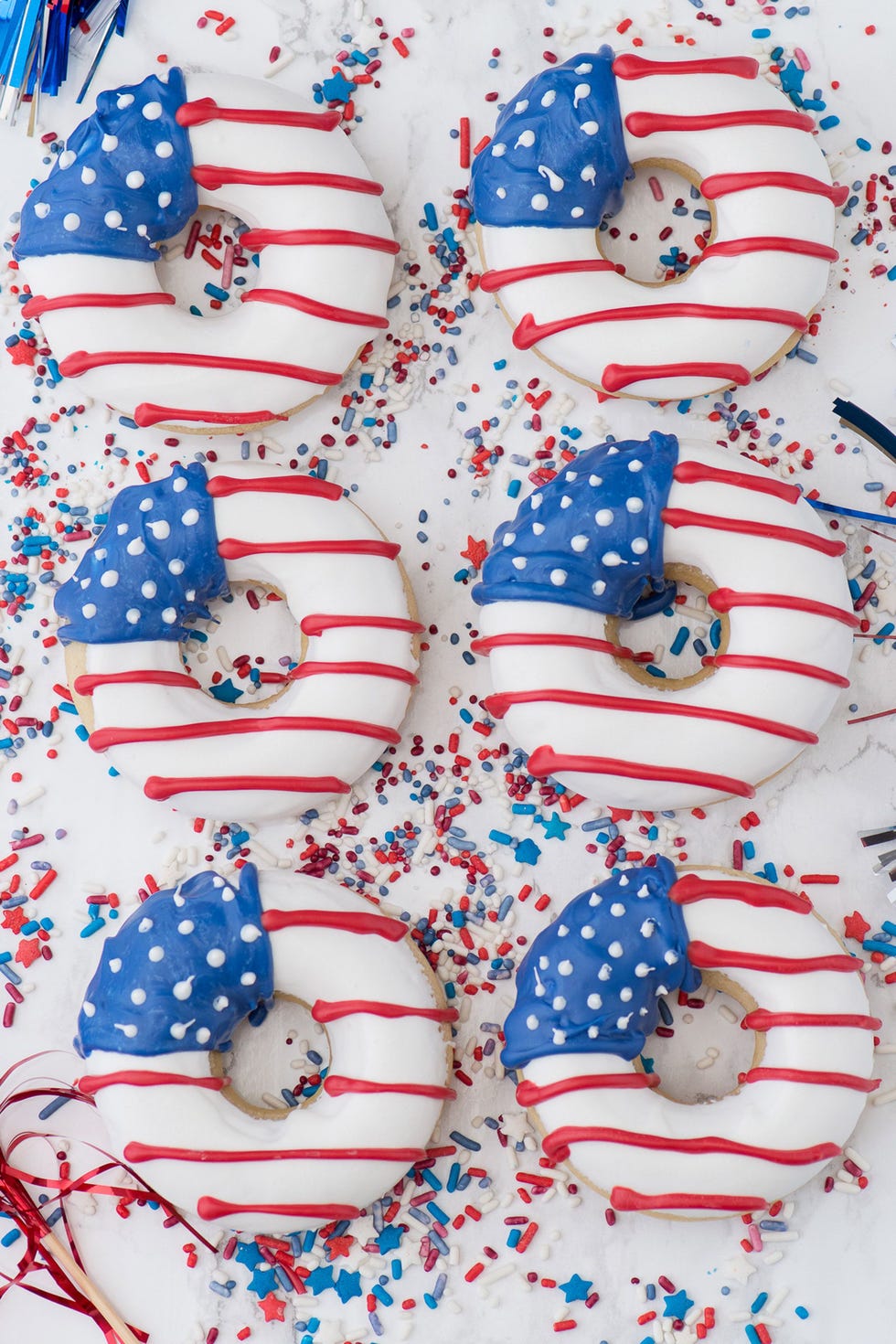 Source - hearstapps
We saved the best for last. Nothing can beat the patriotism of these American Flag Donuts, which are extremely easy and fun to make. You can flavor these however you'd like, but you can't go wrong with vanilla, almond, or lemon extract.
Ingredients
 1 cup all-purpose flour

 3 tbsp granulated sugar

 1 tsp baking powder

 1/2 tsp salt

 6 tbsp milk 

 1 egg

 1/2 tsp vanilla extract (or another flavor extract)

 3 tbsp vegetable/canola oil

 1 bag each of red, white, and blue candy melts 
Instructions
Preheat the oven to 325 degrees F. Spray a donut pan with cooking spray, use a paper towel to lightly spread/remove excess spray.

In a large bowl, combine the flour, sugar, baking powder, and salt. In another bowl, combine the milk, eggs, vanilla, and oil. Stir the dry ingredients into the wet ingredients, mix just until combined.

Transfer the batter to a large piping bag or use a zip lock bag with one corner cut off. Pipe the batter into the donut pan, filling each donut hole about 2/3 full. Tap the donut pan against the counter to release any air bubbles.

Bake the donuts for 10 minutes, or until a toothpick comes out clean. Remove from the oven and let the donuts sit in the pan for 5 minutes before moving to a wire rack. Allow the donuts to cool completely before moving on.

Melt 1/3 bag of the white candy melts. They can be microwaved or you can melt them on the stovetop, whatever your preference. If microwaving, place each color (about 1/3 of the bag) in a microwave-safe bowl and melt one color at a time. I like to start with 1 minute at 60% power, then stir and another minute at 60% power and stir again. Allow the candy melts to cool for about 5 minutes.

Transfer the melted white candy into a shallow bowl that will easily allow you to dip the donuts into. Dip each donut, allowing the excess to fall off. Place the donuts on a cooling rack and allow them to harden.

Melt the blue candy melts (about 1/3 to 1/4 of the bag) and allow it to cool for 5 minutes (otherwise, it might be too runny). Transfer the blue candy melts into a small squeeze bottle and draws the blue corners onto the donuts. Use a toothpick to help spread out the blue chocolate.

Melt the red candy melts (about 1/3 to 1/4 of the bag) and allow it to cool for 5 minutes (otherwise, it might be too runny). Transfer the red candy melts into a small squeeze bottle and draws the red stripes across the donuts.

Once the blue corner is semi-set, transfer a small number of white candy melts into another squeeze bottle and add the white polka dots to the blue corner. Allow the candy melts to harden completely. Store in an airtight container.
In conclusion: You can scroll through these 4th of July recipes, and pick-and-choose the ones that will be the perfect treats for your family.