4th of July BBQ Ideas
4th of July is coming upon us and we all know that it's practically the BBQ holiday. Now, the pressure is on to find the most delicious grilling recipes even if it's just for the family this year. But don't you worry; we are here to take that pressure off of your shoulders with this list of extremely delicious and easy 4th of July BBQ recipes. 
Homemade Corn Dogs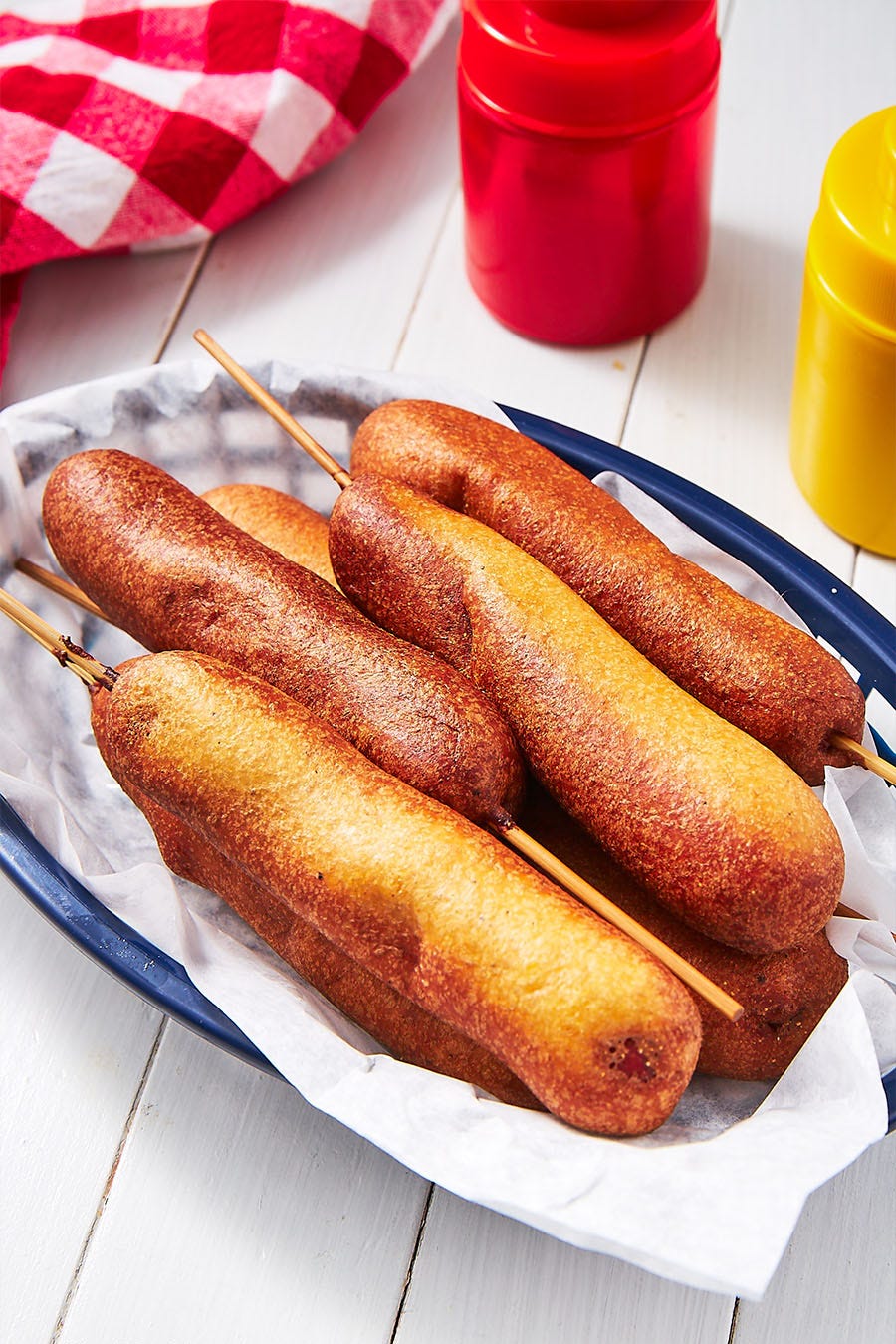 Corn dogs are a general favorite and a must-have item on the 4th of July table. First of all, they're very delicious, then they're quite easy and quick to cook for the kids while they're playing and waiting for the main dish. This recipe is a bit different since you're going to make them all yourself, but you won't regret the additional effort; it's so much tastier than the boxed kind. 
Ingredients 
12 hot dogs

1 c. all-purpose flour

3/4 c. cornmeal

3 tbsp. granulated sugar

1 tsp. baking powder

1 tsp. kosher salt

1/2 tsp. baking soda

1/4 tsp. freshly ground black pepper

1/4 tsp. cayenne pepper

1 c. buttermilk

2 large eggs

Vegetable oil

Ketchup, for serving

Mustard, for serving
Instructions 
Pat hot dogs completely dry with paper towels, then skewer with long wooden skewers. In a large bowl, whisk together flour, cornmeal, sugar, baking powder, salt, baking soda, black pepper, and cayenne.

In a small bowl, combine buttermilk and eggs, then pour into dry ingredients and mix until just combined. Pour batter into a tall glass and let sit while oil heats.

In a large pot over medium heat, add enough oil to come halfway up the sides and heat to 375°. Dip hot dogs into batter and coat evenly. Fry hot dogs, 4 to 5 at a time, until golden, 5 minutes, turning as necessary. Use tongs to remove from oil and place on a paper towel-lined plate. Fry remaining hot dogs, letting oil come back to temperature between batches.

Serve with ketchup and mustard.
BBQ Ribs with Mopping Sauce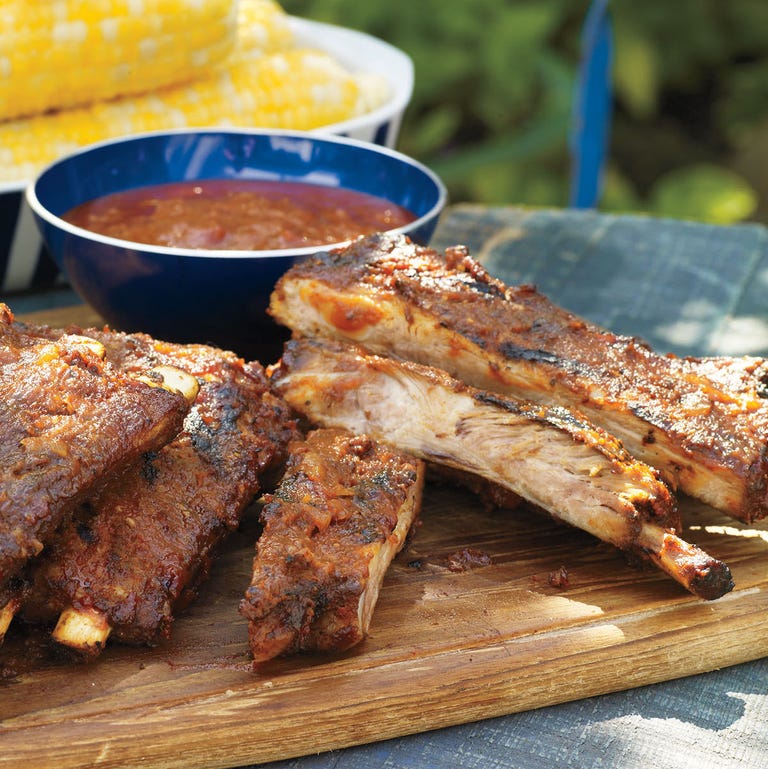 Source - womansday
These tangy spare ribs will get everyone's appetites high for the celebration. They are rubbed with cinnamon and slathered in an irresistible mix of barbecue sauce, apricot jam, soy sauce, and yellow mustard. Just a burst of flavors that your family will love.
Ingredients 
Dry Rub
1/2 c. barbecue seasoning (like McCormick Grill Mates)

2 tbsp. brown sugar

2 tsp. ground cumin

1/2 tsp. ground cinnamon
Mopping Sauce 
1 c. barbecue sauce

c. apricot all-fruit spread

1/4 c. honey

2 tbsp. grated onion

1 tbsp. lower-sodium soy sauce

2 tsp. yellow mustard

Freshly ground black pepper
Instructions 
Heat the oven to 350°F. Line a broiler-pan bottom with foil.

Whisk Dry Rub ingredients in a small bowl; rub on both sides of ribs. Transfer to prepared broiler-pan rack; cover tightly with heavy-duty foil. Roast ribs 1 1/2 hours until meat between ribs is fork-tender. (If making ahead, let cool to room temperature, then transfer ribs to a 2-gallon zip-top bag, seal and refrigerate up to 2 days.)

Combine ingredients in a 2-qt saucepan; bring to a boil. Reduce heat to low and simmer 10 minutes, until the sauce has reduced slightly and thickened; cool. (If making ahead, transfer to a bowl, cover and refrigerate up to 3 days.)

If chilled, bring ribs and sauce to room temperature. Heat outdoor grill to medium-high heat. Grill ribs, mopping them with sauce and turning until slightly charred and glazed, 10 to 12 minutes.

Transfer ribs to a cutting board. Cut into single or double rib portions.
The Perfect 4th of July Burger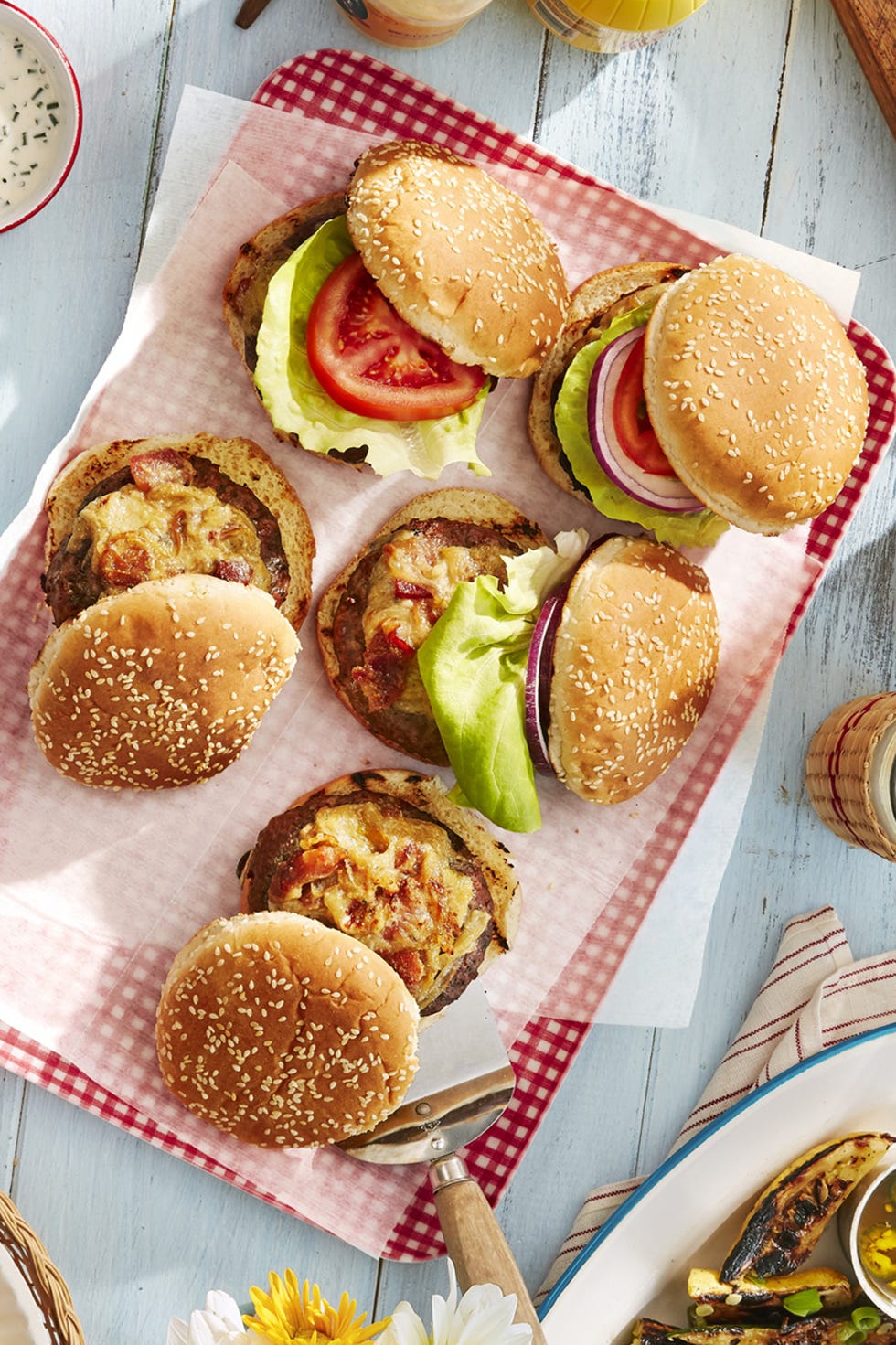 Once you've tried these Worcestershire-glazed patties, you won't need another burger recipe for a while. It's an extremely easy recipe to follow and the satisfaction of the whole family is guaranteed. 
Ingredients 
Canola oil for grill grates

2 1/2 lb. ground beef

Kosher salt and freshly ground black pepper

3 tbsp.  Worcestershire sauce

8 hamburger buns

Cheese, lettuce leaves, pickles, and sliced tomatoes, for serving
Instructions 
Set up the grill for direct cooking and heat to medium-high. Once hot, clean, and lightly oil grates with oil. 

Gently shape the beef into 8 balls, then flatten into 3/4-inch-thick patties. Using your thumb, make a shallow (1 1/2-inch-wide) indent at the top of each patty. Season with salt and pepper.

Grill patties, indent sides up until browned and patties easily lift from the grates, 3 to 4 minutes. Flip and grill, basting with Worcestershire, to the desired doneness, 3 to 4 minutes more for medium.

Serve burgers on buns with cheese, lettuce, pickles, and tomatoes alongside.
Cornflake-Crusted Baked Chicken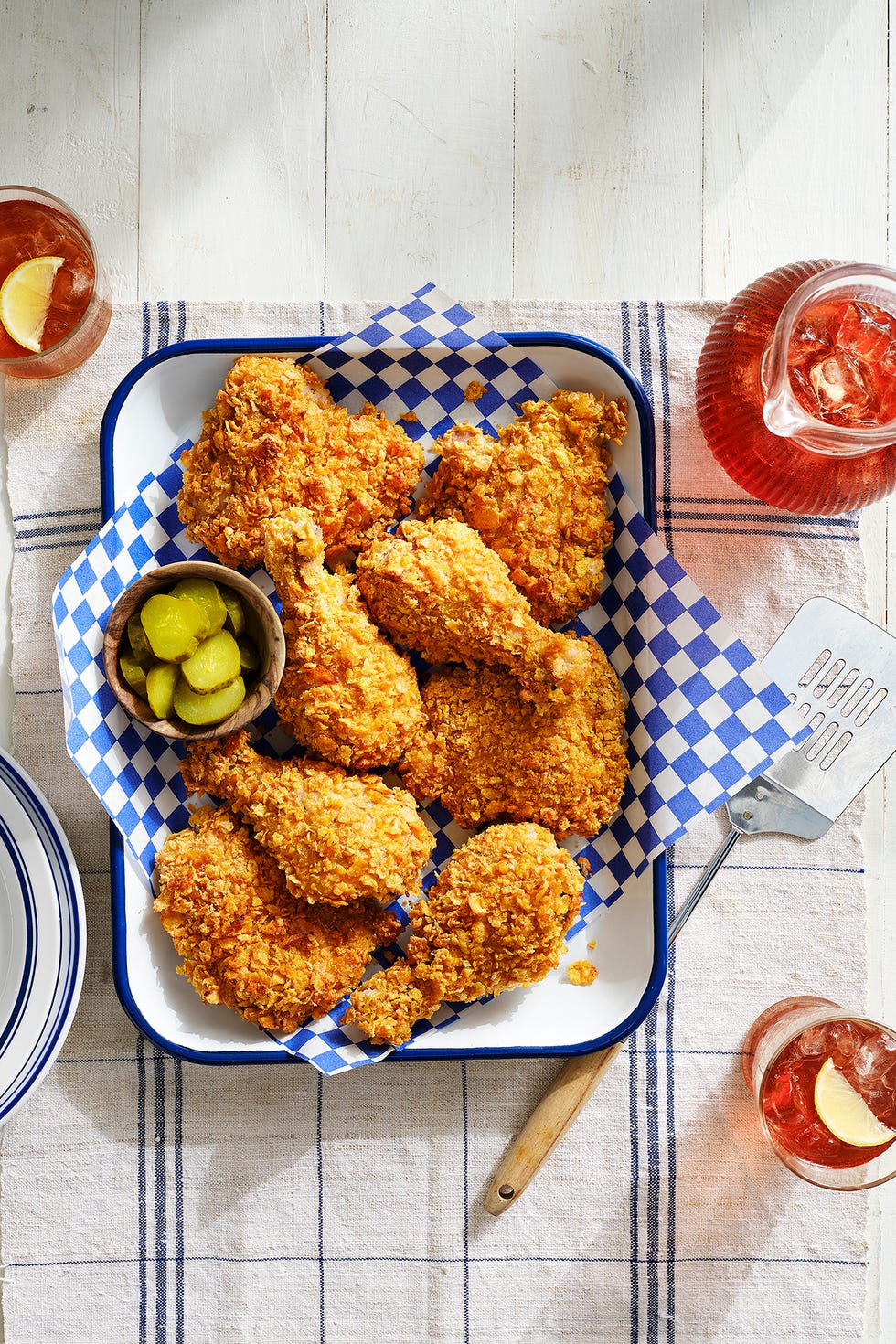 We spend a lot of time cooking and cleaning up takes even more time on the 4th of July. But this Cornflake-Crusted Chicken recipe will save you a little time because it's baked and you won't have to clean up that much. Plus, it's so delicious that even if it was a messy recipe, you wouldn't mind it. 
Ingredients 
1 tsp. garlic powder

2 1/2 c. buttermilk, divided

1 tsp. celery seed, divided

1/2 tsp. cayenne pepper, plus a pinch, divided

Kosher salt and freshly ground black pepper

4 small chicken drumsticks, skin removed

4 small bone-in chicken thighs, skin removed

1 c. all-purpose flour

4 c. cornflakes cereal, crushed

Sliced dill pickles, for serving
Instructions 
Preheat the oven to 425°F. Combine garlic powder, 1 1/2 cups buttermilk, and 1/2 teaspoon each of celery seed, cayenne, and salt in a bowl. Add chicken and marinate in the refrigerator for 30 minutes. 

Fit a rack over a large rimmed baking sheet lined with heavy-duty foil. Combine flour, a pinch of cayenne, and remaining 1/2 teaspoon celery seed in a bowl. Season with salt and pepper. Place the remaining 1 cup buttermilk in a second bowl; season with salt and pepper. Place cornflakes in a third bowl.

Remove chicken from marinade, letting excess drip off; discard marinade. Coat chicken with flour mixture, dip in buttermilk, then coat with cornflakes, pressing gently to help adhere. Arrange chicken on a prepared baking sheet. Bake until cooked through, 25 to 27 minutes. Serve with pickles alongside.
Cowboy Steaks and Potatoes With Broccoli and Cheddar-Scallion Spread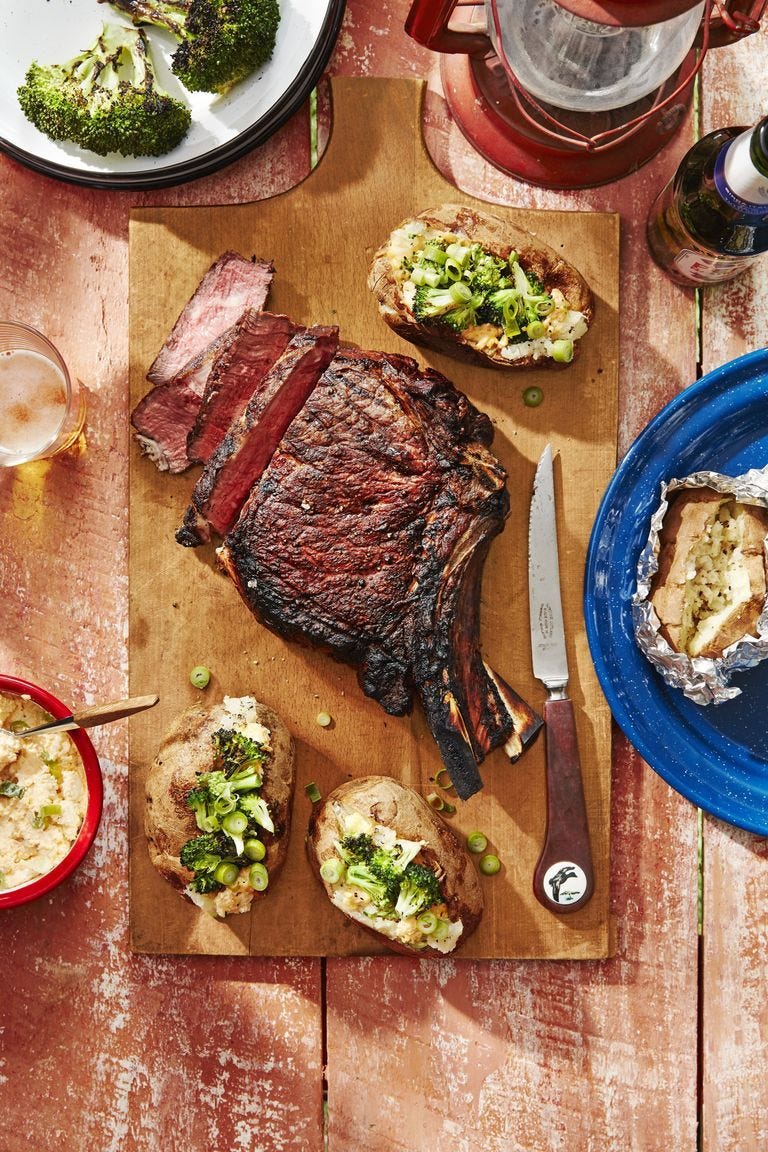 Of course, we saved the best for last. This can be the star of the show, the main dish that Dad's especially will appreciate. Bone-in rib eyes are grilled to perfection in this hearty steak and potatoes dinner. 
Ingredients 
4 oz. cream cheese, at room temperature

1/4 c. sour cream

6 oz. sharp Cheddar, grated (about 1 1/2 cups)

2 scallions, chopped, green and white parts separated

1 tsp. hot sauce

Kosher salt and freshly ground pepper

Canola oil, for grill grate

4 small russet potatoes (about 2 1/2 pounds total), pierced with a fork

1 lb. broccoli halved lengthwise

1 tbsp. olive oil

2 (2 1/2-inch-thick) cowboy steaks (bone-in rib eyes, about 4 pounds total)
Instructions 
Combine cream cheese, sour cream, Cheddar, scallion whites, and hot sauce in a bowl. Season with salt and pepper. 

Set up the grill for direct and indirect cooking and heat to medium. Once hot, clean, and lightly oil grates with canola oil. Wrap potatoes with aluminum foil and place over indirect heat or toward the outer ring of the fire. Bake, rotating twice, until tender, 1 hour to 1 hour and 10 minutes.

Meanwhile, drizzle broccoli with olive oil. Season with salt and pepper. Grill over direct heat, turning occasionally, until crisp-tender, 10 to 12 minutes. Roughly chop.

Season steaks with salt and pepper. Grill over direct heat, uncovered and turning once, until browned, 8 to 10 minutes. Transfer to indirect heat and grill, covered and turning once, to desired doneness, 14 to 16 minutes for medium-rare. Let rest for 5 minutes and slice.

Open foil and split potatoes. Season potatoes with salt and pepper. Top with Cheddar mixture, broccoli, and scallion greens. Serve with sliced steak alongside.
In conclusion: Switch up your annual recipes with these tasty options and make this year's 4th of July a little brighter with good homemade food.