3 Keto Easter Last Minute Brunch Ideas
It looks like we're all going to spend Easter indoors this year. Some of us are thankfully quarantined with our families or friends, while some of us are quarantined solo, but all of us can have fun and eat good food on Easter. With the current world situation, it's exactly what we need to get our minds off the stress and anxiety, and cooking is one of the most therapeutic activities we can do. So keep on reading to discover delicious keto recipes that are super easy, and quick to make.
Deviled Eggs with Bacon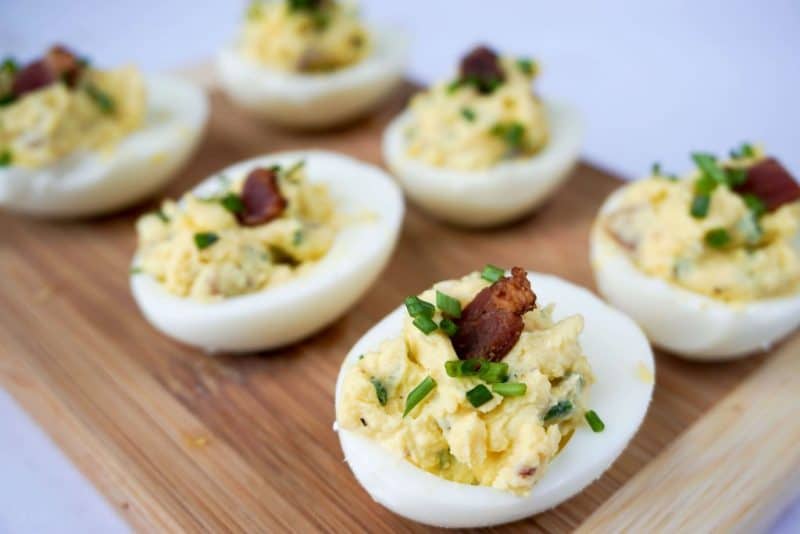 When you say Easter, we say eggs! Deviled eggs are such a staple during Easter, but why not spice things up and make it extra special and delicious with chives and bacon? It's also a super great snack for any day!
Ingredients:
6 hard-boiled eggs

3 tbsp mayonnaise

½ tsp mustard

4 tsp finely chopped bacon

4 tsp chopped chives

¼ tsp salt

¼ tsp pepper
Instructions:
Peel your hard-boiled eggs and slice them all in half. Pop out the yolks and put them in a separate bowl. Add mayonnaise, mustard, salt, and pepper, and mash till a creamy consistency is formed. Gently fold in your bacon and chives. Scoop and place a little of your yolk mixture into the holes of the egg whites. Garnish with some more bacon and chives, and you're done! They're ready to munch on. ;) 
Maple Glazed Ham 
via havebutterwilltravel.com
Maple glazed ham takes us right back to childhood! It's the only appropriate main dish for Christmas and Easter, so we just had to share this easy recipe that only requires 10 minutes of prep time and 50 minutes of cook time. You can have this masterpiece in an hour, so get started now!
Ingredients:
4 fl oz sugar-free maple syrup

2 tbsp tamari

2 tbsp dijon mustard

1 tbsp Worcestershire sauce

1 entire leg of ham, on the bone
Instructions:
Start by preheating your oven to 350 Fahrenheit. Combine all of the ingredients for the glaze in a bowl and stir until smooth. Use a small sharp knife to score the skin of the ham around the small hock section. Then slowly peel the skin off by pushing your fingers between the skin and the fat and working your way around. Once the skin is completely removed score the fat with diagonal lines. Just be careful not to score too deep into the meat.
Brush the glaze all over the exposed fat on the ham leg and place it into the oven for about 20 minutes. Then, take the ham leg out of the oven, baste with glaze, return to the oven for another 10 minutes. Repeat glaze again and put in the oven for another 10 minutes.
Baste for a final time, turn the oven up to 400 Fahrenheit and cook for a further 5-10 minutes. Keep an eye on it as it may brown quickly. And voila! It's ready to be served!
Keto Chicken Nachos! 
via havebutterwilltravel.com
We saved the best for last! Let's be honest, since we're all home, it's inevitable that the day is going to lead us to be in front of the TV, binging Netflix. That's why we picked the most appropriate snack there is - nachos! This recipe is with shredded chicken, making it extra delicious and totally comforting.
Ingredients:
1 packet Quest Nacho Cheese Tortilla Style Protein Chips (you can make your own chips if you have the tortillas! Just add a little oil to the pan, cut the tortillas into triangular shapes, and fry em on both sides, adding a little salt)

100 g shredded chicken

40 g salsa

30 g grated cheese

1 tbsp sour cream

Your favorite toppings! Avocado and extra salsa are recommended.
Instructions:
Preheat your oven to 350 Fahrenheit. Mix the shredded chicken with the salsa, until everything is coated and combined. In a small oven-proof dish, arrange the tortilla chips in a circle around the sides. Place the shredded chicken in the middle, sprinkle with grated cheese and place in the oven for about 10 minutes - or until the cheese melts completely. 
Remove your delicious nachos from the oven and top with the sour cream. Add your favorite toppings and enjoy!
If you decide to prepare any of these mouthwatering recipes, make sure to post it on Instagram and tag us! We hope you'll have a wonderful Easter, eat lots of good food, and FaceTime with your loved ones. But most importantly, stay healthy and stay safe.