3 Healthy Easter Recipes
Although the world is at hold and everyone is self-isolating in their homes, our lives still go on and some holidays are not cancelled, they are just altered to the situation of the world. Easter is one of those holidays that won't change that much because of the outbreak. But we advise you to make changes in the traditional meals that you'll cook making them as healthy and immune-boosting as possible. Here we have three healthy recipes for you to consider this Easter.
Lamb Chops with Mint Pan Sauce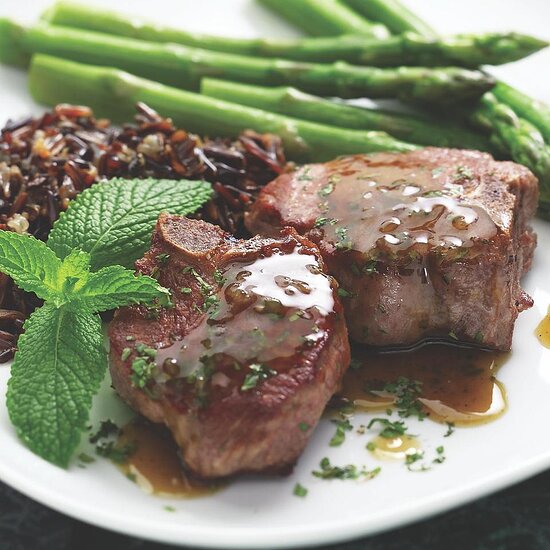 Image source - eatingwell.com
Ingredients 
⅓ cup apple juice

1 ½ teaspoons cornstarch

8 lamb loin chops, trimmed of fat (about 1 1/2 pounds total)

½ teaspoon kosher salt

½ teaspoon freshly ground pepper

1 teaspoon canola oil

1 shallot, minced

⅓ cup reduced-sodium beef broth

2 tablespoons cider vinegar

2 tablespoons mint jelly

2 tablespoons minced fresh mint, divided
Instructions 
Preheat oven to 450 degrees F. Combine apple juice and cornstarch in a small bowl; set aside.

Sprinkle lamb chops with salt and pepper. Heat oil in a large ovenproof skillet over medium-high heat. Add the chops and cook until browned on one side, about 2 minutes. Turn them over and transfer the pan to the oven. Roast until an instant-read thermometer inserted horizontally into a chop registers 140 degrees F for medium-rare, 6 to 10 minutes, depending on the thickness. Transfer the chops to a plate and tent with foil.

Place the skillet over medium-high heat (take care, the handle will still be hot). Add shallot and cook, stirring constantly, until browned and softened, about 1 minute. Add broth, vinegar, and jelly and bring to a boil, whisking to dissolve the jelly. Cook, whisking constantly until the liquid has reduced by half, 2 to 3 minutes. Stir the cornstarch mixture; add to the pan and bring to a simmer, stirring constantly, until the sauce is thickened about 30 seconds. Remove from the heat and stir in half the mint along with any accumulated juices from the chops. Serve the chops topped with the sauce and the remaining mint.
Garlic and Herb dinner rolls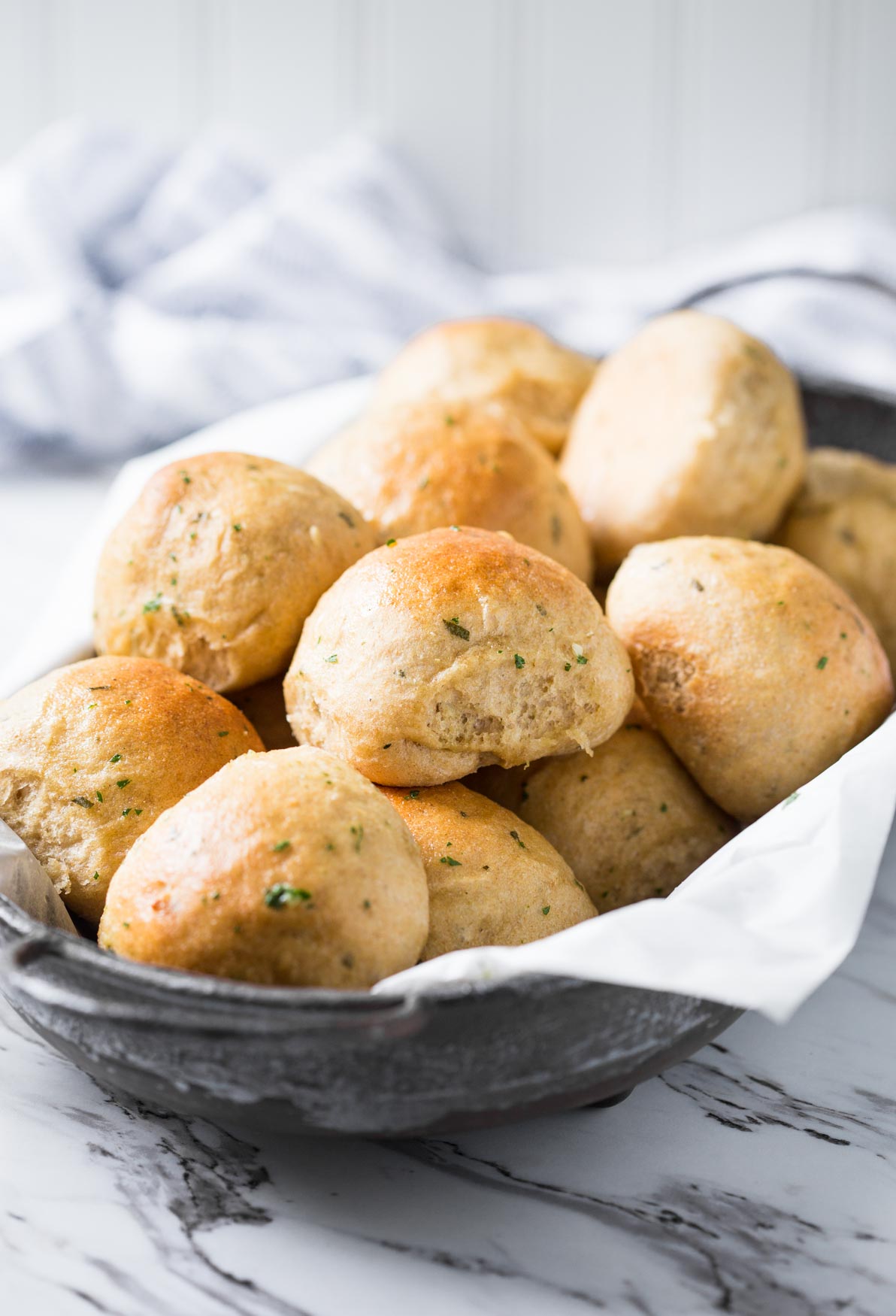 Image source - watchwhatueat.com
Ingredients
3 1/2 cup whole wheat flour

1 cup low-fat milk

1/4 cup water

3-4 garlic cloves finely minced

1 tbsp finely chopped fresh rosemary (or 1 tsp dried)

1 tbsp parsley finely chopped

2 tsp instant yeast

1 tsp sugar

salt to taste

1 egg at room temperature

1/2 tbsp olive oil
Instructions 
In a large mixing bowl take warm milk and water. Then add garlic, rosemary, parsley, yeast, sugar, and salt.

Add one egg and gently combine the mixture using a whisk.

Slowly add dry flour into the wet ingredients. Mix the flour until it absorbs all the moisture and forms a crumbly mixture. Cover the bowl with a clean kitchen towel and let it sit for 10-15 minutes. See notes on how to use a stand mixer.

Then on a flat surface knead the flour mixture until it forms a soft supple dough. Add oil while kneading the dough.

Transfer the dough to a mixing bowl and let it rise for about an hour or so or till it doubles in size.

Now divide the dough into 15 equal parts. Shape it into small round balls. Place the rolls on a baking or roasting pan leaving some space in between.

Again cover the tray with a clean towel and let the rolls rise for another 30-40 mins.

Meanwhile, preheat the oven to 375F.

Remove the cloth and transfer the tray to the oven and bake the rolls for about 12-15 min.

To get a nice brown crust on the rolls you can apply oil using a brush as soon as rolls are out of the oven and still hot.
Seven-Layer Fruit Salad
Image source - eatingwell.com
Ingredients
 ½ cup of orange juice

1 tablespoon lime juice

1 tablespoon chopped fresh mint (optional), plus more for garnish

2 cups diced watermelon

2 cups halved blackberries

2 cups diced honeydew melon

2 cups quartered strawberries

2 cups diced pineapple

2 cups halved green grapes

2 cups diced cantaloupe
Instructions 
Combine orange juice, lime juice and mint (if using) in a small bowl.

Toss watermelon with 1 tablespoon of the juice mixture in a medium bowl. Arrange in a trifle bowl. Repeat with blackberries, honeydew, strawberries, pineapple, grapes and cantaloupe, tossing each fruit with 1 tablespoon of the juice mixture and layering it decoratively in the bowl. Garnish with mint, if desired.
Here we have some of our greatest knives that will help you cook your healthy Easter Recipes!